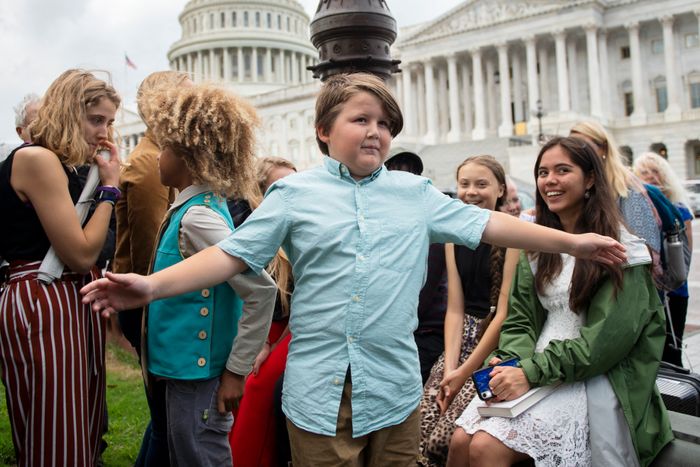 Photo: Caroline Brehman/CQ-Roll Call, Inc via Getty Imag
Greta Thunberg is on Capitol Hill today testifying in front of a House Foreign Affairs subcommittee hearing, but she's not alone.
She's been joined by other kids who are demanding that Congress act on climate change ahead of the school strike this Friday. At the hearing, Thunberg and other students were stunned by the questions they received from the adults in the room, which included, "Why should we listen to the science?" Really.
But she was also flanked by what appeared to be a boy angel, who rose up suddenly to shield Thunberg from photographers when she was sitting outside the Capitol during a press conference ahead of the hearing.
The Guardian caught the actions of this tiny bodyguard, who leapt up like a mini bouncer at a club for children, using his very small wingspan to block photographers as Thunberg sat talking with other teens. While her champion stood stone-faced, projecting steely reserve, Thunberg smiled.
Who is this brave boy? We may never, ever know. (In any case, he should certainly receive some type of commendation — can they give out the Congressional Medal of Honor to middle-schoolers?)
But he represents the absolute courageousness of these kids who, in all seriousness, are up against some supremely ignorant, fully grown politicians. Instead of the usual introduction, Thunberg's opening statement to her testimony at the hearing lasted only 90 seconds, during which she pointed to the UN's IPCC report on climate change. "I am submitting this report as my testimony because I don't want you to listen to me," she said. "I want you to listen to the scientists. And I want you to unite behind the science. And then I want you to take action."