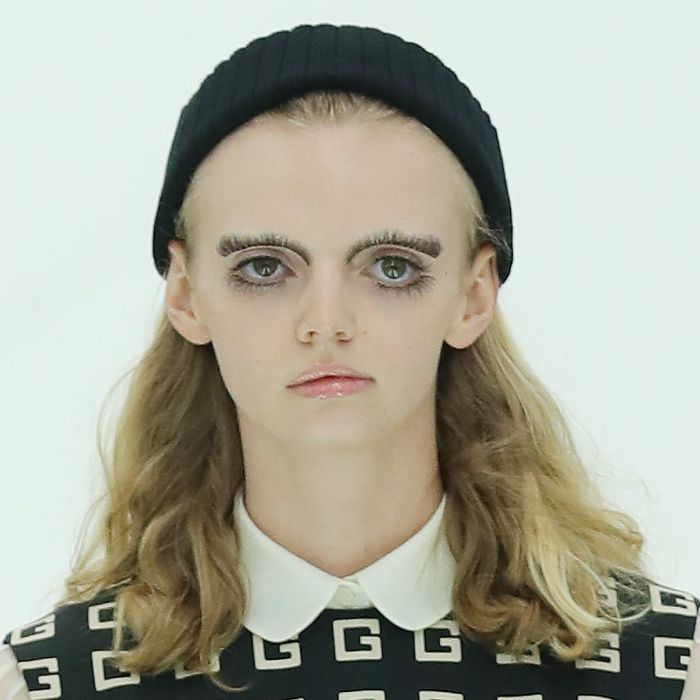 Photo: Vittorio Zunino Celotto/Getty Images for Gucci
Alessandro Michele might have given new purpose to all of those false eyelashes you end up accidentally stretching out after a single wear. At Gucci's spring 2020 runway show, models wore fake lashes applied directly on top of their brows, courtesy of makeup artist Thomas de Kluyver.
For some of the models — who had walked on a moving runway, underneath harsh, fluorescent lighting — the layered lashes created an exaggerated doll-like, Twiggy look. On others, the lashes appeared more surreal and jarring, no doubt due in part to the juxtaposition of the fuzz against their bare faces.
The only other somewhat noticeable makeup was a thick layer of clear lip gloss, from Gucci's Baume à Lèvres shade 1 in Joslyn Clair. According to the brand's Instagram, the makeup was left bare in order to highlight "the unique and natural beauty of each model."
Hairstylist Paul Hanlon paired a variety of looks, including TERF bangs, messy bobs and geometric braids, with de Kluyver's simple complexions. The collection aimed to "allow people to walk through fields of possibilities, cultivate beauty, make diversity sacrosanct and celebrate the self in expression and identity," the brand tweeted.
If you need something easy but effective for Halloween, consider taking a page from Gucci's runway and aiming a little higher when you apply your falsies.