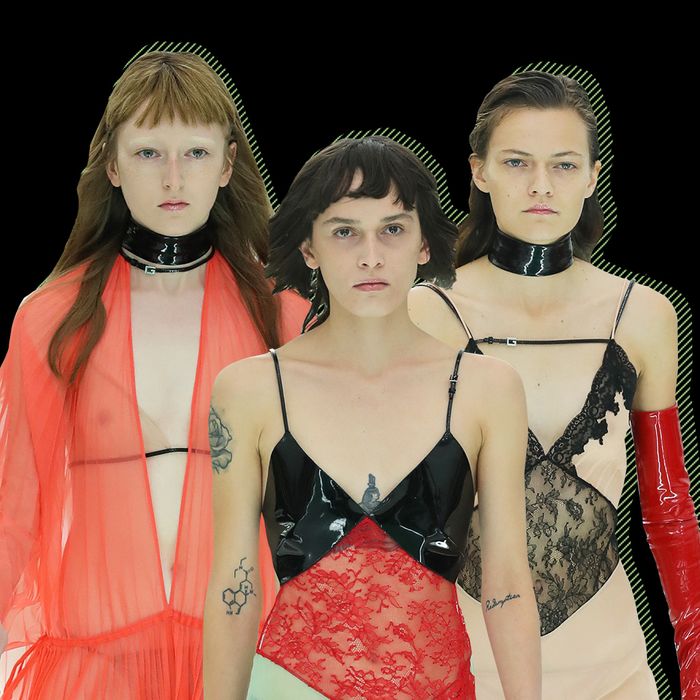 Looks from the Gucci spring 2020 collection, which showed during Milan Fashion Week.
Photo: Getty Images
On Sunday, Gucci closed Milan Fashion Week with the crack of a whip.
A sign at the entrance of the company's Milan headquarters, known as the Gucci Hub, hinted at what was to come: "Gucci Orgasmique." What could it mean? Nothing is ever simple when it comes to the mind of creative director Alessandro Michele. His notes — written by his professor boyfriend, Giovanni "Vanni" Attili — often make heady references to Foucault, and his previous spring collection included dragons and severed heads. You wouldn't be blamed for letting your imagination wander. "Orgasmique" also isn't a word I would immediately use to describe Michele's aesthetic. We're talking about a guy who made librarian glasses cool. Could it really be that the era of sexy Gucci G-strings — last seen under Tom Ford in the '90s — is back?
Well, the show opened with a conveyer belt moving models in straightjackets through a clinical white space. So, not exactly. As the notes explained, this display was meant to illustrate the "microphysics of powers" that control our society, from institutions to devices to, yes, even brands like Gucci. We must resist, the notes continued. (One model in the show, Ayesha Tan-Jones, took this quite literally, scrawling "mental health is not fashion" on their hands in protest and displaying the words to the audience.)
Gucci recognized its own power in the notes, asking if brands could liberate their customers, or if they were just a "refined device of neoliberal government that ends up imposing a new normativity, turning freedom into a commodity and emancipation into a broken promise?" Hmm! A lot for guests like Harmony Korine, Jared Leto, Sienna Miller, A$AP Rocky, Iggy Pop, Gucci Mane, and his wife, Keyshia Ka'Oir, to chew on.
Of course, Gucci wants to believe that fashion can set us free — that indulging your expensive desires is a way of expressing yourself. In the past, that might have meant buying a loud print or a furry loafer, but for spring 2020, the look was less about deliberate bad taste and more about kink, with leather whips and latex choker necklaces. Like last season, when Michele showed Hannibal Lecter masks, he's letting his darker, more twisted side show.
After a full 20 straightjacket looks, the lights suddenly went out, as if there were a power outage at the Gucci Hub, and models scurried off. Then, the real show began. The first look was a long black maxi dress with a deep sheer neckline, expressing modesty and nudity at the same time. This was followed by librarian glasses with thick chain croakies, bedazzled lace slips, revealing cutouts, and even a cheeky leather pillow case for last-minute sleepovers. A$AP Rocky and Lou Doillon seemed pleased at the sight.
The collection may have been a departure from the eccentric Gucci we know, but it was still very much on-brand. There were still ruffled blouses and Mennonite shoulders, only this time they were fashioned out of see-through fabric and leather straps. Even the beauty looks were perverse, like fake eyelashes applied as eyebrows. In other words, it was not Tom Ford–era Gucci, which was a more textbook definition of sexy — although, there was a G-string in the collection. Michele told Business of Fashion that he was inspired by the freedom enjoyed by designers like Ford and Miuccia Prada in the '90s. "The way Tom looked at sex was ambiguous," Michele said. "It was more like something pagan, and I was drawn to that perversity."
Unfortunately for us, sexuality is still considered a provocation in 2019, but for Michele, it was a genuinely new direction. Personally, I found the straightjacket opener to be cliché and unnecessary, but enjoyed the collection overall. It read as both straightforward and freaky, and will no doubt sell just as well as his previous collections, if not better. Sales are not something Gucci has to worry about, but too much success can lead to over-saturation, and Michele himself was probably starting to get a bit bored. Maybe, as the show notes hinted, he's feeling choked by the demands of capitalism himself. Either way, a little kick in butt doesn't hurt.