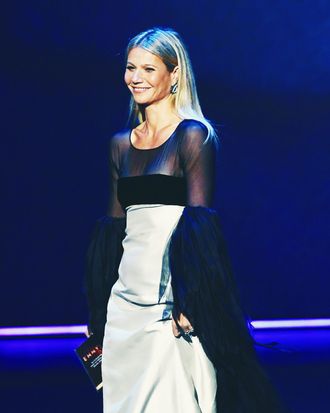 Gwyneth Paltrow.
Photo: Kevin Winter/Getty Images
At the 2019 Emmys on Sunday, Goop founder and Cut fan Gwyneth Paltrow tip-tap-tip-tap-tip-tapped her way into a meme, when she walked gingerly across the stage to present the Emmy for Outstanding Lead Actress in a Drama Series.
Her steps? Minuscule. Her torso? Immobile. Her shawl? Precariously draped, it looks like. Her smile? Beaming. The overall effect? Magical.
Gwyneth tip-toeing across the stage with a self-satisfied smile had the energy of a Barbie doll who just became sentient and is teetering over to let you know she remembers all the weird stuff you made her do; of someone who showed up late and unprepared to a meeting; of someone carefully gripping a jade egg inside themselves.
Look at her go!
In the intervening days, Paltrow appears to have successfully baby-stepped her way back across the stage, and on Thursday morning, she told Today's Savannah Guthrie that she doesn't get why everyone was so obsessed with her walk.
"I think I look pretty normal," she said, when Guthrie played her a video of the moment. "I don't totally get it."
She explained that her halting gait was due to the fact that her dress was made in 1960s (before women won the right to take full steps, I think).
"There was no slit in the back of the dress. It was from 1963, a couture Valentino gown," she said. "I didn't want to chop a slit in it."
Or, maybe Paltrow was trying to buy time so she could try to remember the names of any of her former co-stars.