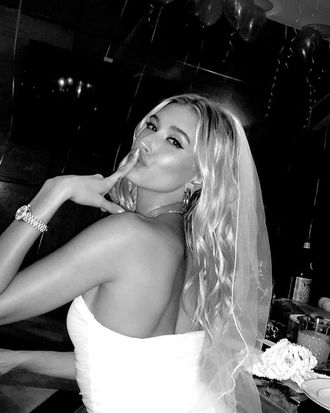 Photo: @keliamoniz/Instagram
It's a small mercy in this world that even the wealthiest and most beautiful among us have to endure some of the same tests of the spirit that all humans much face.
I'm speaking, of course, of the bachelorette party.
Hailey Bieber, who is technically already married, was subjected to this ritualized indignity last night in Los Angeles, ahead of her wedding to Justin Bieber this weekend. Though the pair already had a ceremony, this one will reportedly be their larger, more Jesus-y one. All we know is that it is taking place in "South Carolina," so that narrows it down … somewhat.
Though the Daily Mail tells us Bieber, her sister Alaia, Kendall Jenner, and some other friends enjoyed a "raucous night out," it truly looks like they engaged in the most standard and hellishly boring of bachelorette fare.
Bieber wore a white dress and a veil. There was a large goblet with the word "BRIDE" on it, name tags with things like "BRIDE TO BE" on them, and penis sippy cups, and penis straws.
Again, all of these practices and symbols will be familiar to women who have also been obligated to participate in phallus idolatry while toasting with shots of Goldschläger until our arms cannot even lift the slimmest of penis straws. Eventually, the night bleeds together in a bleak, wrinkled pink blur. It's somewhat comforting that even for the likes of Hailey Bieber and company, bachelorette parties remain a prison from which we may never escape.