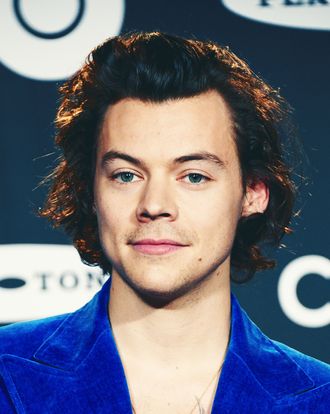 Harry Styles and his forehead pre-bangs.
Photo: Dia Dipasupil/FilmMagic/Getty Images
No one can resist the lure of a fresh set of 2019 bangs. Not even one Harry Styles, previous owner of some very good heartthrob hair.
Like almost everyone else, Styles was spotted out and about in Italy over the long weekend. Unlike almost everyone else, he was spotted out and about with a brand-new bowl cut, also known as Bangs for Men™, covering his once very visible forehead (see left).
The new haircut was photographed in selfie form by a dad who recognized Styles despite his new, choppier do, and I am eternally grateful to Erin's father for such commitment and attention to detail.
While I'm always thrilled to welcome new sets of bangs into the world, certain corners of the internet are less than pleased with Styles's new style, which has been described as some "jonathon byers looking ass type hair cut." Some fair-weather fans are even taking this opportunity to "unstan," which sounds extreme and like a word we should never use again.
Let us not forget that fellow heartthrob hair owner Timothée Chalamet rocks a bowl cut in his new Netflix film and he continues to thrive nevertheless. Plus, Styles's textured bangs have a decidedly Jaime Lannister vibe, and though that bowl cut died along with its owner (RIP), it will fondly be remembered as totally kind of hot by some.
A couple of months ago, I'd say give it time, but bowl cuts are officially happening. Please embrace them and their brethren with open arms.