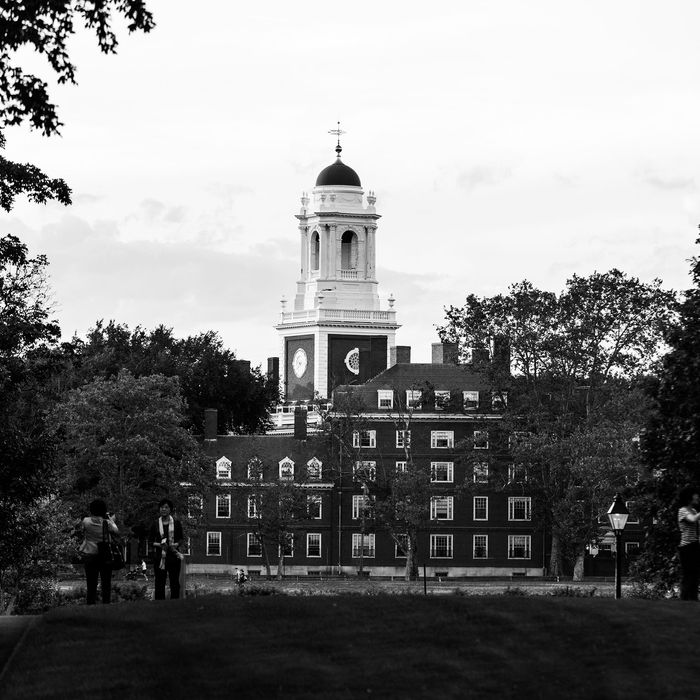 Harvard.
Photo: Brooks Kraft/Getty Images
Earlier this year, dozens of wealthy parents were accused of taking part in what the FBI dubbed "Operation Varsity Blues" — a nationwide scam to secure their children admission to elite universities, in which they allegedly paid tens of thousands of dollars to have SAT scores falsified or to get their children fraudulently recruited for sports they didn't actually play. The scandal sparked widespread outrage. The real scam, of course, was the idea that elite universities in the United States are meritocracies at all, as a new study reported by Slate confirms.
According to the paper, "Legacy and Athlete Preferences at Harvard," 43 percent of the Caucasian students accepted at the university between 2009 and 2014 were athletes; legacies; or the children of faculty, staff, and donors (referred to as ALDCs). Of these students, researchers found that three-quarters of them would not have been admitted to Harvard had they been treated as white non-ALDCs.
Of the African-American, Asian-American, and Hispanic students admitted to Harvard during this time, fewer than 16 percent of each group were ALDCs. (Researchers were able to examine Harvard's acceptance data because the university released it as part of the Student for Fair Admissions suit against the school, in which the school was accused of placing too much emphasis on the race of applicants, and setting a higher bar for Asian-American students to gain admission.)
The report concludes that each of the ALDC categories — athletes, legacies, and children of staff or donors — primarily benefit white students. Removing athlete and legacy preferences would make incoming classes slightly less white and significantly more economically diverse.
As Slate notes, however, instead of moving away from the current admissions process, Harvard seems to be doubling down on the preference it gives ALDCs. Another paper by one of the study's authors found that, "over the course of the 18 years, legacies and athletes moved from being four times more likely to be admitted as their non-legacy, non-athlete counterparts to nine times more likely to be admitted."