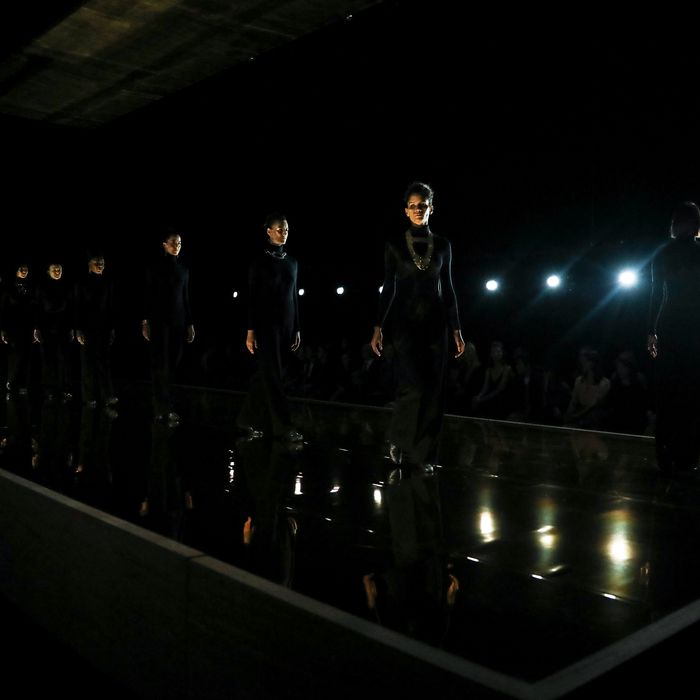 Photo: Samantha Nandez/BFA.com
Everyone's talking about brand experiences these days, but when Hermès hosts an event, guests can expect to be truly transported — sometimes to far-flung destinations, sometimes just within their own imaginations.
In April, for example, an opening party for the new Hermès Meatpacking District store felt more like an immersive Sleep No More performance, complete with actors, acrobats, and a buffet table wilder than your wildest dreams. (Imagine a life-size swan made from artichoke petals.) A few months later, the brand invited a select group of press, employees, and creative collaborators like filmmakers and photographers on a surreal trip to the Arctic Circle, where they stayed up all night listening to a Lithuanian birdcall musician, as one does. Hermès has been doing these trips for the last 32 years, each time with a new theme; 2019 is "Hermès Dreams."
Last week, after the runway shows in New York wrapped, the brand continued this series by commissioning a dance performance at Lincoln Center from the French choreographer Christian Rizzo. It served as an introduction to the Hermès Enchaînements libres jewelry collection and was conceptualized by the brand's creative director of jewelry, Pierre Hardy.
The show began with an elegant pas de deux, the dancers in minimal clothing, no jewelry. Then, performers in black turtlenecks came out wearing the new collection and moved about the space. Under the stage lights, it looked like each shimmering chain was doing its own dance, brought to life against the black of the tops. Finally, the audience was invited to come to the stage to get a closer look. Was it less of an arduous journey than the one to the Arctic Circle? Probably, but just as unexpected.
See Pieces from the Collection