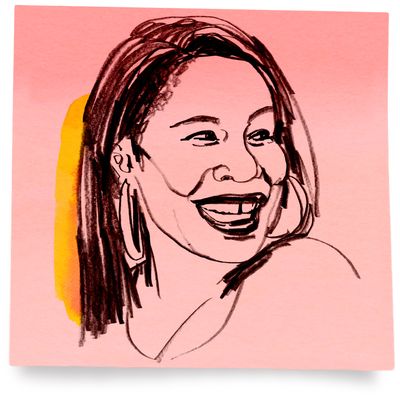 Uzo Aduba.
Photo-Illustration: by Lauren Tamaki
Emmy Award–winning actress Uzo Aduba's social-media accounts all bear the same bio: "Growing up, I never thought there was a seat for me, so I've decided to build my own table. Come. Pull Up a Chair." And she lives by that mantra. Seven years ago, in the face of the ruthless competition in entertainment industry, Aduba says she briefly considered giving up on acting. Then, in 2012, she landed the role of a lifetime as Suzanne Warren on Orange Is the New Black, the show that helped her realize that she could create the space for herself in Hollywood. In the years since, her ambitions have only grown. She's currently filming Mrs. America, an upcoming FX miniseries in which she'll play pioneering black congresswoman Shirley Chisholm. She lives in New York City. Here's how she gets it done.
On her morning routine:
The very first thing that I do in the morning is journal. Then I typically work out, eat breakfast — I made an omelet this morning — and start my day. Today, I watched the news, and then after that I went to work on my show Mrs. America.
On cooking regularly:
I love cooking — I find it very calming and meditative. I also like the art form of it — of creating something that wasn't in the room through the variety of ingredients coming together. When I'm just cooking for myself, my go-to dinner recipe is salmon, roasted asparagus, sautéed spinach, and roasted herb potatoes. I'll be having that tonight. Tonight I'm also going to start marinating my Jesus chicken. I call it that because it marinates for three days and rises on the third day. So, that'll be ready for dinner later this week.
On throwing dinner parties:
I love, love, love hosting and feeding people, whether that's through a dinner party or a charcuterie board. Since November, I've been working on a beautiful, formal sit-down party menu. To start, I'll make vegan butternut-squash soup with a vegan coconut creamer and fried shallots on top. Then, I'll either serve a handmade crab cake or these vegan "scallops" that I make with king oyster mushrooms. And for the main, I found a delicious recipe for miso black cod over roasted bok choy. Oh, and a homemade butter cake for dessert. All these dishes are ones that I've had at restaurants and have learned how to re-create. It's always ideal to make dishes you can prep before people come over because you don't want to be busy cooking when they're there.
On staying true to herself:
I think a huge thing Orange Is the New Black gave me is the confidence and the knowledge that there was a place for me in this space. And, as long as I continue to be myself, this place will exist. I think in this business, that is the adversity: this fear that you are not enough, or that you have to change yourself dramatically to be enough. The fact of the matter is that Orange gave such a space to me and my castmates that it made me realize, No, this is what I'm supposed to be doing. As long as you hold true to yourself, there's always going to be someone who sees that. It might not be everybody, but you have to keep going as you.
On training for the New York City marathon:
I was on a full scholarship at Boston University for track and field, and ran through high school and college — definitely nowhere near a marathon, though. But when I graduated, I took up long-distance running, in part for exercise, in part for release and meditation. I've run two marathons before, but a while ago. Nothing about those were for time or for anything other than raising money — I wasn't focused on anything other than not dying. My goals were: Raise money, don't die. That's why this upcoming marathon is slightly different; I'm running to raise money for Stand Up to Cancer, but I'm also running to see what it feels like to train with time in mind because I've never done that before. It's a big lift! But the idea of people who are battling cancer daily, who are able to push themselves to places they never would've thought of going — that makes me think I can push myself.
On recharging:
I love a massage. I love a spa, period — facials, manis and pedis, love love love love love. I know people who can't sit still, but I'm not one of those people. I can work and put my nose to the ground just like anyone else, but I also believe in restoration and recharging yourself. I think that requires actual stillness. I have no problem doing that on a day off or even clearing the books.
On traveling:
Since I was a teen, I've had three travel goals: to go to every continent, to go to every country, and to go to every state in the United States. Last year, I tackled the first one when I went to Antarctica, making me part of the
7 percent of people who have gone to every continent. Now my goal is every country — Egypt is at the top of my list, followed by the Seychelles, New Zealand, and Morocco. I also really want to go to Kilimanjaro.
Before every trip, I buy a brand new journal, every time. I also bring a camera — a DSLR, not my iPhone.
On her typical nighttime routine:
After dinner, I'll watch garbage TV — maybe Real Housewives. I used to read a lot before bed, but I haven't lately because I've been reading scripts. I'll also usually call someone in my family before going to bed. Maybe my mom. I talk to my mom everyday.