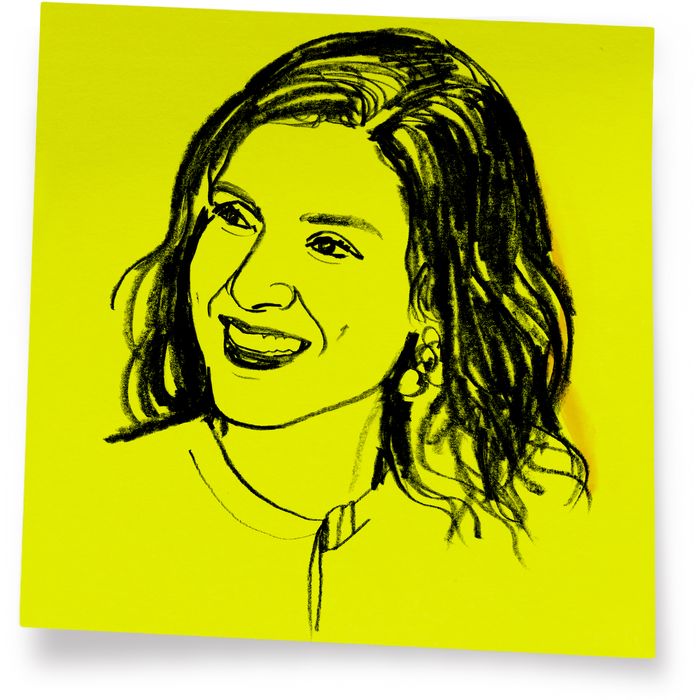 Radhika Jones.
Illustration: by Lauren Tamaki
Doing the Most is a special series about ambition — how we define it, harness it, and conquer it.
Radhika Jones is the editor-in-chief of Vanity Fair. Since she succeeded Graydon Carter two years ago, she's diversified the magazine's cover stars, writers, and content. Previously, she was the editorial director of the books section at the New York Times, and she also worked at Time and The Paris Review. She just finished editing Vanity Fair's Women on Women, out October 29, which looks back at the magazine's best stories about women, written by women, from the past 35 years. She lives with her husband and her son in New York City. Here's how she gets it done.
On a typical morning:
I usually wake up around six. I have a young son, so I haven't had to set an alarm since he was born. I'm a morning person, so I generally like to get up in the morning. I'm also one of those people who need a lot of sleep. I try to get seven or eight hours of sleep a night. I need a cup of tea in the morning. I drink Irish-breakfast tea. I've had a cup of tea in the morning for as long as I can remember in my adult life. It relaxes me for the day.
On commuting:
I take the subway. Sometimes if I'm dropping my son off at school, it's a little more complicated, but I tend to take the subway unless I have to wear some complicated shoes or something, in which case I might take a car. But honestly, usually the subway is faster. It's also time to read. For a while I was addicted to the spelling bee on the New York Times app and I was texting constantly with my siblings about spelling.
On office life:
On a regular day I'm usually doing meetings with my staff. We have a weekly ideas meeting and a weekly assignment meeting. I'm lurking on Slack to see what everyone's working on and what's going on. I look at the New York Times and the Washington Post in the morning, but at the office, I'm mostly in and out of meetings, looking at web, reading pieces that are going up online.
I like going out to lunch and I love to see people over lunch, but it does take a big chunk out of your day. I try not to have a week where I have too many lunches, because it does kind of take away your productivity. I'll eat soup at my desk or a sandwich. If I can, I'll take a little walk, just to get out of the office. One thing about working at One World Trade is that you can get to a lot of places without going outside, and you start to feel a little bit like a mole person. That's not bad when it's raining or snowing, but obviously it's a little weird not to breathe the outside air.
On answering emails:
The funny thing about work these days is that I feel like I'm constantly communicating with colleagues on four different platforms. There are editors who text me over WhatsApp and then there are people I text with and people I'm DM-ing on Slack. And in a way email has gotten more reasonable, only because those platforms have gotten more active. I sort of wish I were one of those people who have color coding and strict rules about not leaving your desk until you're done. But the truth is that sometimes the best times for me to send emails are super-early in the morning or late at night, when I can focus and think about things. And so I don't hold myself to too high a standard in terms of what I do at my desk.
On her signature pen:
The thing that I absolutely need while I'm editing or doing anything scripted is Muji pens. I write a lot of thank-you notes, and my pen of choice is a Muji ballpoint pen with brown ink.
On stress: 
There is a good amount of stress in this job, and, in a way, for all of us in media right now, because things are so uncertain. There's also some excitement to it. I think I'm pretty good at blowing off steam, even if it's just chatting with another friend on the floor who's an editor or going to a screening and enjoying a movie in a very visceral way. When I started working at Vanity Fair, I took up boxing for a little bit and that was fun.
On her creative process:
One of the places where I often do my best writing and thinking is actually on the subway. There's something about being in motion; I think that helps me think. Even if it's crowded, even if it's noisy, I'm just able to let go in that space. If I'm writing something, something I'd like to do more of, very often the first sentence or the animating idea will come to me while I'm in transit.
On her new book:
I think that a book like this can remind you what the goal is for Vanity Fair. We went through the archives, and I think when you look at the pieces we chose as a whole, they say something very interesting about the great female characters who populate our culture. Vanity Fair has a history of asking difficult or uncomfortable questions and really getting into what motivates a person. That has always felt like one of the missions of the magazine and something that I obviously want to continue.
On decompressing from work:
I try to make sure to schedule some nonwork friend time at least once or twice a week, even if it's just a drink or a breakfast, because I find that it's very helpful to have perspective from people who aren't necessarily wrapped up in the media world. I try to get home in time to put my son to bed or, on a great night, in time to have dinner with him and put him to bed. I sing to my son. I love to sing. I find it cathartic; it's quiet time when I'm not looking at any devices. My father was a folk singer earlier his career and he sang a lot of Woody Guthrie songs, so I sing Woody Guthrie songs and Johnny Cash. Also, I don't really feel like myself if I'm not in the middle of the book. That's the kind of thing I'll just try to fit in at any time. Right now, I'm reading Moby-Dick. I promise I'm not joking — I lead a book club, and we decided it would be fun.