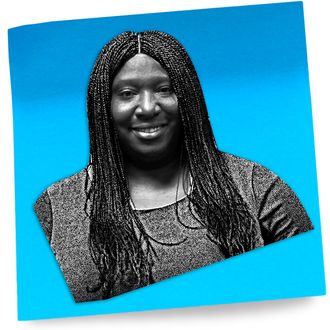 Photo-Illustration: by Stevie Remsberg; Photo: Julián for the Future
Doing the Most is a special series about ambition — how we define it, harness it, and conquer it.
Maya Rupert is a trailblazing campaign manager for a trailblazing campaign: As the 38-year-old black woman strategizing for Julián Castro, the Democratic primary's only Latinx candidate (in a sea of unidentifiable white men), she knows what it's like to be in a position that, until now, hasn't been held by people like her. Especially because she considers herself an activist first. Before joining Castro's campaign, she worked for years at the Center for Reproductive Rights, the National Center for Lesbian Rights, and served as Castro's senior policy adviser when he was secretary of Housing and Urban Development. Rupert is also a writer and a lawyer, and lives in San Antonio with her two cats. Here's how she gets it done:
On her morning routine, with pets:
At home in San Antonio, I have two cats. It's not so much meditation or anything, but in the morning when I wake up, they've surrounded me, so I have to pet them for a little bit. Their names are Crispin and Cuomo. I really like speeches, so I named Crispin after the Saint Crispin's Day speech [from Henry V], and then Cuomo after Mario Cuomo, because I really loved his speech in 1984 [at the Democratic National Convention].
Then I get on the phone with my sister and her wife, who live in Chicago. They call me and put me on speakerphone and get ready for their day like I'm in the room. We work in very different areas, but as black women in leadership roles, a lot of times we're dealing with similar issues. In addition to just being my sisters and best friends, I have that built-in support network.
On putting out fires:
Every day, there are the things I know are going to happen: I'm going to have a conversation with the candidate. I'm going to meet with our COO to talk about the budget. I'm going to have some meetings with some version of our department heads. But the stuff that you don't know, that's always going to be the thing that takes up most of your day. It's the rapid response, the thing you don't have any control over. Every day there's going to be a new emergency, so you want to try and keep your desk clear so you can deal with it.
On accepting the job of campaign manager:
For a lot of reasons, I thought I couldn't get into politics. It's not the most visible profession if you don't know how to get into it. When I met the candidate, I realized, "Wow, there are politicians who approach politics the way I, as an activist, approach wanting to center justice, and wanting to talk about who's not at the table." Even so, when he asked me to run his campaign, I said, "I don't know about this. Have you thought this through?" But I was his senior policy adviser, and he wanted to run a substantive, policy-driven campaign. He felt like my impulse to go toward the issues was actually exactly what he wanted.
I almost want to say he took a chance on me, but the thing is, he doesn't treat it like he was taking a chance. He treats it like he looked around and saw the person he wanted running this campaign, and because of that confidence, I feel like I'm able to get up and do it every day.
On telling people what to do:
I definitely have those moments in managing where I have to say to myself, "Wait a minute … I'm actually not asking a question. Just do this." We have a lot of women on our team, and women of color, so I try very hard to model certain behaviors, because I know that there are other people, like me, who have been socialized professionally to not be so comfortable giving orders, and I would like to empower them. My leadership style is very collaborative. I ask a lot of questions. I say, "This is where I'm leaning, but I'm not married to the idea. What do you think?" But at the end of the day, I have to make the call. Being able to say, "Yes, I want to hear people who disagree with me. I hear you. I hear you. I'm making the call," is a learned behavior, but I feel like I'm getting there.
On talking about race: 
When I was younger, growing up in Joshua Tree, California, I had this sense of wanting race to be the least salient thing about me. When you're that age, all you really want is to be just like everybody else. It wasn't until college at UC Santa Barbara that I feel like I got comfortable talking about race and the role that race played in my life, and as I started talking about it and getting comfortable with it, I enjoyed it. I felt like it was sort of a secret I had been keeping, and as soon as I said it out loud, I realized it was not a secret worth keeping. It's actually really important. When people feel comfortable talking about race, we're better off.
On telling identical twins Julián and Joaquin Castro apart:
I did mix them up once. The congressman [Joaquin] was at an event he wasn't originally supposed to attend. He came late, so I just looked at him in the corner of my eye and thought, that obviously has to be the secretary [Julián]. He was starting to leave, and I was like, "Where are you going? We are meeting after this." So I just went over and grabbed him and was like, "What are you doing?" And then I realized it wasn't him … He just made fun of me. The great thing is, the congressman has now grown a beard to make it easy on all of us. So that helps. Although after the last debate, the congressman came into the spin room and still so many people said, "Great debate, Mr. Secretary." He was like, "I literally have a beard. You just saw him without the beard."
On getting her candidate into tonight's debate:
When we found out we were through to debate number three, that was such a such an incredible morning. My sister actually called me. She woke me up, and was like, "How did I find out about this thing on the internet?" I said, "I'm finding out through you!" And then I got the text message from the secretary. He does not use emojis. I wish I could get him to use emojis.
Having a candidate like the secretary on the stage opens the conversation immensely. I see in real time the value of diverse teams. Something comes up, and we have more confidence that things won't get missed, because there are a lot of perspectives in the room. I would venture to guess that we probably have more conversations than most campaigns historically, about, wait a minute, are we getting this right? And if we say this, is that a pretty exclusive statement? There have been so many times where I've drawn on my own experience. There's a level of comfort that I probably wouldn't have if there were all the usual suspects in a political room.