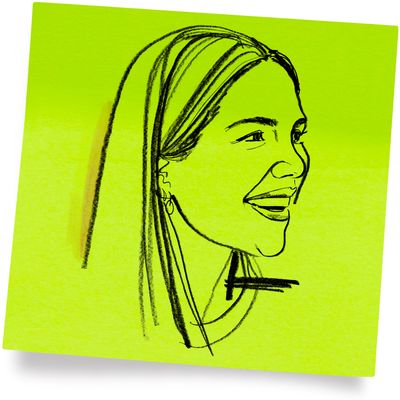 Photo-Illustration: by Lauren Tamaki
Doing the Most is a special series about ambition — how we define it, harness it, and conquer it.
Tyler Haney, the 30-year-old CEO of Outdoor Voices, has built her life around chasing endorphins. A cross-country runner who studied design at Parsons, she first conceptualized the company while running on the West Side Highway. Now, the athleisure brand is a favorite among millennial women, and it's only getting bigger: The label has raised close to $60 million in funding, according to Business of Fashion, and currently has nine storefronts (a 10th is coming to Flatiron in New York soon). Haney lives in Austin, TX, and is expecting her first child with fiancé Mark Wystrach, who is a country singer for the band Midland. Here's how she gets it done.
On her morning routine: 
Right when I wake up I drink a cold glass of lemon water and do 30 grateful breaths. I take a deep breath and think of what I'm grateful for. So this morning it was my dogs, Juice and Pony. And then I almost always jog three miles on the hike-and-bike trail down here in Austin. After that, I jump into a cold shower — in Austin in the summertime that's a good thing.
On working out at work: 
I have 7 to 9:30 a.m. blocked out as a protected "Doing Things" time. I usually get to the office before 9:30, but it's important to make sure that exercise time is blocked out and free of meetings. Our headquarters is called the Doing Things Headquarters. We have a lot of activities built into the office culture. Whether it's walking around the block or playing tennis, it's central to our reason for being. Now that I'm pregnant, I exercise more frequently and in shorter spurts throughout the day to keep my brain sane so I can show up for the team. Surfing pregnancy-hormone waves is an extreme sport!
On a typical day:
For me, creating a framework for doing things is really important, and keeping a routine is how I stay organized. My schedule is the same every day: the creative work I put in the beginning of the day, and the operational and logistical work I put at the end of the day. A monotonous schedule allows me to be creative. I have to be pretty rigorous around that.
On managing stress:
It's all about finding ways to create endorphins to combat stress. I think the best way I do that is through exercising, smiling, sex, and eating bananas. Those are my go-to methods. I know eating chocolate gives you endorphins, and I know that eating does. Eating a banana every day is a trigger for me to feel better. I'm not sure why. I think I've trained myself to do that. But it's part of my stress relief.
On multitasking:
In terms of leading OV, my challenge is finding the headspace to do less, and to do one thing at a time. I'm naturally a multitasker, but I have to be conscious of that and combat that because it doesn't lead to my best work or leadership. Gary Keller wrote a really good book called The One Thing that I'd recommend to anyone who feels like they have too much to do and are always busy. It takes a lot of discipline to do one thing at a time. After I read it, I got in touch with Keller and started working with him in a mentor relationship. [Ed. note: Keller is an investor in Outdoor Voices.] 
On creating Outdoor Voices:
I never thought I'd be in apparel. I grew up in Boulder, which is a super outdoorsy place. We'd go hiking every day. Through high school I was a real tomboy and played every activity really competitively. I went to New York after high school and applied to Parsons. I've always been design-inclined. I was jogging one day and it dawned on me that I didn't have a team to keep me accountable for exercising. And I realized that as you get older, being active takes on a whole new meaning and you don't have that accountability system. So I thought it would be cool to have that community to help you exercise without the competitive nature of sports. I wanted to create a group around recreational activities that didn't take itself so seriously.
From a product standpoint, I wanted an outfit for activity that was  comfortable but more in line with what I wear every day. I wanted something that didn't scream, "I'm trying to be super fast." So that was the initial inspiration for creating Outdoor Voices. We talk about it as a community of exercisers, not athletes.
On positive thinking: 
My personal mantra is "totally possible," and I'd like to add to that "if you can think it, you can do it." I believe that's true. Something we talk about a lot at OV is "endorphins make you happy, and people want to work with happy people."
On ambition:
I would say I'm very hungry. I wake up with an insane drive. That's something I was born with. I think that drive is really fueled by progress. I wake up every day wanting to be better. And I think that relates to ambition. It's the same feeling I had in fifth grade when I wanted to win the race running around the school. Feeling like I'm on a path to be great and working at it every day is a really addicting feeling. There's no finish line, but there's an opportunity every day to get better. That motivates me and drives me.
 On winding down after work: 
I work pretty late. I always do some sort of activity to end my day. Outdoor Voices has an intramural soccer team, and then Barton Springs [a popular swimming pool in Austin] at night is fantastic. We end up there a lot after 9 p.m., when it's free. A lot of times I end up at a burger joint after that, and then home.
On her nighttime rituals: 
Before I go to bed, I put my legs up on the wall to get the circulation going. It's something I used to do when I ran cross country, and it relaxes me. I have a little sleep noise machine that I've had for a long time. I call it a sleep sheep. I end my day by reading David Sedaris, because it's important to give your mind some recess.