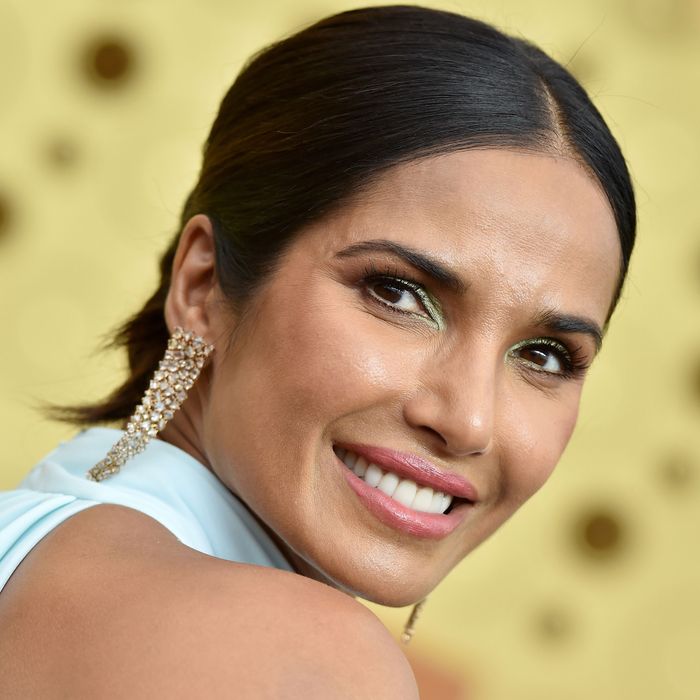 Photo: Axelle/Bauer-Griffin/FilmMagic/Getty Images
If there was an Emmys for beauty products, Padma Lakshmi's highlighter would have won. At the 2019 Emmys, the Top Chef host wore a pale-blue Christian Siriano turtleneck dress and a soft but eye-catching mint green eye look created by makeup artist Bob Scott. It served as a reminder that everyone should highlight the inner corners of their eyes.
Scott used three different shades of green to make the color look extra "saturated and rich." A green eyeliner pencil from Lakshmi's M.A.C collection went on first, as a base. Scott drew a thick line and then blended an army-green (Mud Moss) with a green-gold eyeshadow (Mud Shamrock) on top. Lakshmi's lashes were then coated with a few layers of her favorite mascara, Make Up for Ever Smoky Extravagant mascara. Her skin glowed from Armani Beauty's Luminous Silk Foundation in Shade 9 — a makeup-artist favorite.
A very responsible person with a busy week ahead, Lakshmi skipped all the Emmys after-parties but still did her nighttime beauty routine. The Cut caught up with her after the event to find out more about her beauty look.
You just went to the Emmys. What did you do after you got back?
We actually left a bit early because it was my daughter's first time being my date. She's 9. It was a lot for her, between wearing heels for the first time and all the heat and sunshine on the red carpet, which took us a few hours to get through. We didn't have a rager. We didn't go to any after-parties. We came home early. I wound up putting her to sleep while spoon-feeding her some rice and daal, which I also ate. And then I just watched TV in bed with a full face of makeup until I finally decided to wash it off and take down my hair and take out the 4 million pins.
What was your nighttime beauty routine like that night?
It was hardly the glamorous life of an Emmy nominee. It was true to life, though. We have a big day today shooting the campaign for the new season of Top Chef, plus my daughter wasn't feeling well.
I finally did take some Neutrogena make-up wipes to loosen up the fake eyelashes and take off all the foundation. Then I had the hottest, longest shower of my life. We have a rainbath shower in the AirBnB, so I scrubbed off all the hair gel and hairspray. I washed and conditioned it, and used a mask, along with mostly Christine Chin products on my face.
So you're a fan of Christine Chin, known for giving the most painful facials in New York. How do you stand it?
I've been going to Christine Chin for at least a dozen years. My friend first hooked me up with her. I have one about every six weeks. Yes, it is really painful. But I'm used to tough Asian women ruling my life. I don't go to her for a pampering spa treatment. I go there for results. I look to her to give me the tough love I need to take care of my skin. She knows I spend a lot of unnecessary time in the sun because of filming. I need her to help counteract all the sun damage and hyperpigmentation. She usually does a mcirodermabrasion and extractions.
What vitamins do you take and have you noticed a difference?
I take a magnesium citrate powder to help me sleep, and help with muscle recovery after working out. It also helps keep me regular with all the food I eat on set. I take one scoop in the morning and at night. I also take a vitamin-C packet during the day. Once a week, I give myself a vitamin-B shot. This system is what works for me and keeps me from collapsing.
Are you a fan of CBD? And what do you like?
I am a fan of CBD. It works in a topical way that lets you take less oral medication like Advil. I found an amazing muscle cream in Colorado while we were shooting there called Mary's Nutritionals Muscle Freeze. My hairstylist Jeanie Syfu who travels with me also suffers from the same neck and shoulder pain. We found that it was a game changer. It has camphor, menthol, and ecualyptus, so it helps the skin get hot and cold. And it also helps before going to Christine Chin and with endometriosis!