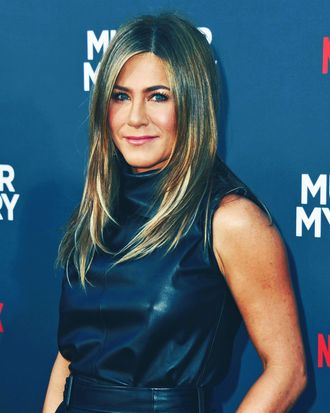 Photo: Jon Kopaloff/FilmMagic
What I like most about Jennifer Aniston's brushes with the supernatural is how utterly banal they are. She had a ghost in her house but it was coffee-maker ghost. Her 48th birthday piñata was cursed (no candy, didn't even know about putting candy in piñatas). She's referred to her scalp sweat as a "hair product" (ok maybe that one is more wishful thinking than mysticism).
And now we learn that Aniston has been dabbling in baby witchcraft for decades. I mean, really entry-level stuff, namely referring to her most poignant friend hangs as "goddess circles." Aniston told the New York Times in a recent profile that she completed the ritual again for her 50th birthday:
"Seated on cushions, cross-legged on the living room floor, they passed around a beechwood talking stick decorated with feathers and charms, much as they had done for every major event of their lives. They had circled before Aniston's weddings to Brad Pitt and Justin Theroux. They circled when babies were born, and when Aniston and Theroux had to put down their dog, Dolly. This time they set the circle's intention: to celebrate how far they've come — and to toast Aniston's next chapter."
"It's so weird. There's so much doom around that number [50]," Aniston told the Times. This iteration of the gathering was about rejecting that gloom. Aniston, perhaps hesitant to appropriate a term often employed by witches to describe a range of spiritual communions, added that she was wary of being associated in print with the term "goddess circle" and asked the reporter if she should just call it a "circle." Too late!