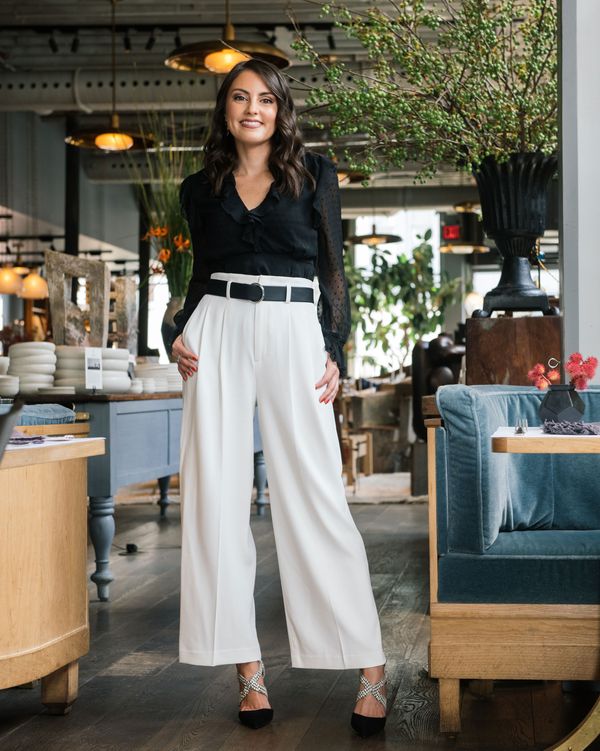 Doing the Most is a special series about ambition — how we define it, harness it, and conquer it.
When Daniela Pierre-Bravo was about to graduate from high school, she learned her family was undocumented. This meant she was unable to earn the federal scholarships for college that she had been counting on. By juggling multiple part-time jobs (including selling Mary Kay cosmetics), applying for private scholarships, and entering writing contests, she was able to pay for all four years at Miami University of Ohio. She graduated with a degree in international studies.
Through the Deferred Actions for Childhood Arrivals (DACA) policy, Pierre-Bravo successfully landed a coveted spot in the yearlong NBC page program. That led to her current gig as a producer for Morning Joe, where she has spent the past five years booking guests, interviewing subjects, and sourcing new stories. Pierre-Bravo also co-authored a book with Mika Brzezinski about millenials at work, called Earn It!, which was released this past May.
The Cut caught up with Pierre-Bravo to chat about her first internship mistake, why her closet is full of well-tailored pieces, and how her style has changed now that she lives in New York City.
On her everyday shoes: It really depends on what I have going on that day! If it's an early morning on set, I try to go for something stylish but still comfortable. That means a pointy flat or low-heeled pumps that can also serve as a good commuter shoe. If I have an industry event, speaking engagement, or book press event I like to dress my outfit up with stilettos.
On going out after work: If possible, I like to dress for the day, since usually my schedule is pretty packed and I can't go home to change. I'll wear something neutral if I know I'm going from a day of meetings to a more trendy event after work and change up my shoes into something more playful. That translates to tailored pants with a fitted cotton tee under a lightweight black blazer, or culottes with a blouse. I'll also add jewelry, like layering a few gold pieces or wearing a single gold medallion necklace.
Shop Blouses
On what she wears to big meetings: I believe in tailoring, be it a suit or a dress. It's all about what is going to make you feel most confident. I try to not wear colors that are too loud and keep jewelry to a minimum so that if I'm presenting something in the meeting or speaking, the attention is on what I'm saying. That said, it also depends on the meeting! If I'm seeing an editor or publicist or attending a book event, I'll loosen up and wear more casual clothes.
On her biggest wardrobe mistake: As a 20-something who was originally from Chile and grew up in a tiny Ohio town, interning in NYC was a fish-out-of-water experience! My first creative job was at Diddy's Bad Boy Entertainment offices. Most of the executives were women dressed to the nines with stilettos. I, like any impressionable young person with little experience (and never having been to NYC!), tried to follow suit. A few days into my internship, I bought a new (knockoff designer) dress and heels I could barely walk in.
It wasn't the smartest idea, since most of my days were filled with running errands and getting coffee. Someone called me over to give me my tasks, and instead of complimenting me for my style efforts (as I thought she surely would!), she looked me up and down, smirked, and said, "I know you're trying to do your 'thing,' but right now I need you to go upstairs and assemble the swag closet." That bruised ego served as a valuable lesson! I learned that the best tip for people starting their careers is to dress for the task at hand instead of trying to impress in something that feels unnatural.
On dressing for her first job: Don't feel pressured to spend on designerwear when you're starting out! Keeping it simple was the best thing I could have done, especially for an unpaid internship. My basics consisted of a simple blouse, a pencil skirt that you can move in or black fitted pants with a mid-heel, and a fitted black dress. Obviously, you want to dress for the company you are interviewing for and make it appropriate to their environment, but when you are starting out and have more to prove, keep your clothes simple! Let the interviewer focus on what you are saying and why they should hire you.
On her style evolution: As a young girl in Chile, I was all about being girly and was pretty independent about what I wore from a young age. I had a thing for heels early on and loved playing dress up in them. I was an old soul who wanted to wear big, floppy hats and long sundresses. Coming to New York City definitely brought a bit more edge to my looks. I'll still wear a maxi dress, but I'll add a leather jacket to rough it up. I'm also a big fan of taking that same leather jacket and wearing it over a bodysuit or camisole, plus fitted black jeans.
Shop Leather Jackets
On the last three things she bought: I just added high-waisted cropped jeans to my denim rotation. I also picked up chunky gold hoops from a Brooklyn vintage store and a new leather jacket for when it finally gets cold.
On what she wears when she's running late: My mornings tend to be busy because I'm usually working on writing projects, finishing up interviews, answering questions from readers, or trying to fit a workout in. It feels like I'm always running against the clock! Having go-to silhouettes that I can mix and match is key — like a pair of fitted ankle-cut pants or work-appropriate jeans I can pair with a blouse, sweater, or blazer. When in doubt, I can also default to a black dress that always looks meeting-ready.
On her average day: My day always starts early. I'm up by 5 a.m. or 6 a.m. because I'm watching the guests I've booked for MSNBC's Morning Joe plus the live show leading up to it. Some mornings, I'm at our 30 Rock studio greeting a show guest on site; other mornings, I'm in early, conducting on-camera interviews for NBC's Know Your Value site or working on last-minute logistics during the live show. If the show is traveling, I'm on set by 4:30 a.m.
I usually get into the office around 9:30 a.m. and have an editorial meeting after. Throughout the day, I'll be scouring sources and outlets for potential guests. Since I'm still doing book press for Earn It!, I might also have an interview, a shoot, or a podcast to do. Around 6 p.m., if I don't have any after-work events, I'll try to sneak in yoga or a barre class and finish up emails before going to bed. Somewhere in between, I'll watch reruns of The Office and snuggle up on the couch with Benji, my rescue Morkie — you need to make time to decompress.
Daniela wears Stuart Weitzman pumps. Similar available at stuartweitzman.com.
If you buy something through our links, New York may earn an affiliate commission.