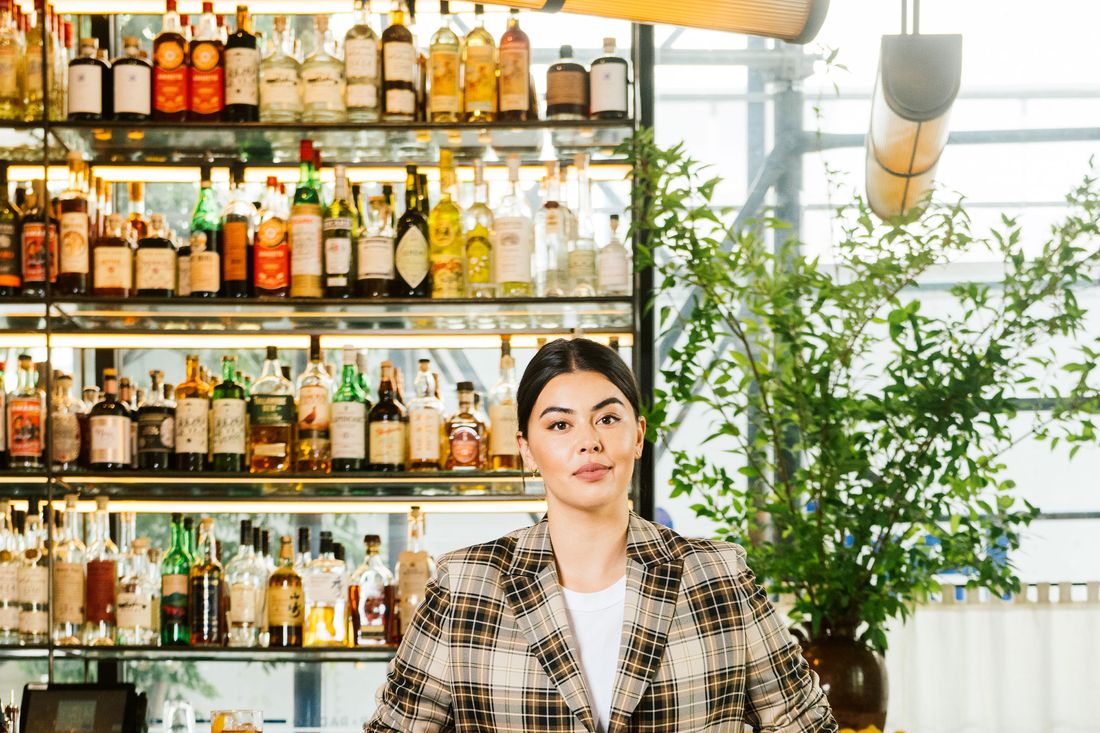 Doing the Most is a special series about ambition — how we define it, harness it, and conquer it.
While inclusive sizing has come a long way in the past few years, with more and more brands offering stylish options, it's still hard for women over size 12 to find well-made clothing that looks professional. Frustrated by the abundance of cheap fabrics and matronly cuts, former Glamour editor Lauren Chan decided to start her own line, Henning. It debuts today with luxurious, office-friendly pieces in sizes 12 to 24 (for now — she hopes to expand the size range in the future).
The collection is a minimalist's dream, with sleek suiting, elegantly cut jackets, and staples like T-shirts and button-ups. In addition to looking good, the pieces are all highly functional. Chan adds clever details like hidden elastic in the back of the pants and gel-tape liners built into the seams to prevent damage from thigh chafing. Prices run from $250 to $800, which reflects the materials — everything is high-end.
Expanding into design isn't a big leap for Chan, who has worked as both a fashion editor and a model. (She's still modeling for clients like Kohl's and Mango, as a matter of fact.) The Cut caught up with her in between meetings at Café Altro Paradiso to find out about her love of sneakers, her belief in a good suit, and how her style has changed now that she's no longer at Condé Nast.
On the shoes she prefers to wear every day: Sneakers, hands down. When I was a fashion editor, my shoe game was a little stronger, but I still cheated by wearing running shoes during my commute and switching into heels at my desk. Now that I'm an entrepreneur, my day-to-day is less write-at-my-desk and more run-around-the-city, so sneakers are the most practical option. Plus, now I'm my own boss and I say they're work-appropriate.
On her style evolution: My style has evolved with every step in my career. When I was a model, I wore a lot of jeans and T-shirts because that's a pretty standard casting uniform. During my editorial days, I spent most of my time in the Condé Nast office. I tried to wear something tailored and put-together daily because I had the potential to be pulled into a meeting at any time. I gravitated toward more office-ready pieces like suits and dresses.
As a founder, I make my own schedule, so I attempt to categorize my days as errand or meeting days. If my agenda consists of running around the Garment District, I usually wear jeans and a T-shirt. If I have a day of meetings, I'll throw a suit on. In truth, most days are somewhere in the middle so jeans, a top, and a blazer do the trick.
On going out after work: I try my best to get home and change! Lately, my go-to dinner or panel look has been a monochromatic dress with a blazer plus white sneakers.
Shop Monchromatic Dresses
On her go-to meeting outfit: My Henning suit, naturally! It's black, double-breasted, and made from wool. It makes me feel commanding. The structure, weighty fabric, long lines, and elegant cut make this the penthouse of blazers. And it's a piece — and a feeling — I could never find in plus-size womenswear.
On starting Henning: I started my brand because I couldn't find anything to wear to work. I've been everything from a size 14 to a size 20, and while my sample-size co-workers were always decked out in designer clothes, I was stuck wearing cheap fast fashion. I always wanted one impeccable suit to wear to my most important meetings and one knockout dress to wear to dinner events. I couldn't find them, so I made them.
On the challenges of entrepreneurship: The hardest part of being a founder is being forced to work beyond the depths of your knowledge. I came from a job I could do with my eyes closed (of course, that's part of the reason I left), so the stress of having to figure out how to figure things out is real. But while it's stressful, it's also all kinds of awesome. The moments that bring me the most joy are the ones where I get to talk to our customers.
On what she wears when she's running late: It's literally what I have on in this photo — a nice white T-shirt, fun plaid trousers, sneakers, and a well-made jacket!
Shop Statement Blazers
On the last three things she bought: Earrings with a Henning symbol on them, a T-shirt from the Wing, and a fresh pair of Vans slip-on sneakers.
Shop the Story
If you buy something through our links, New York may earn an affiliate commission.