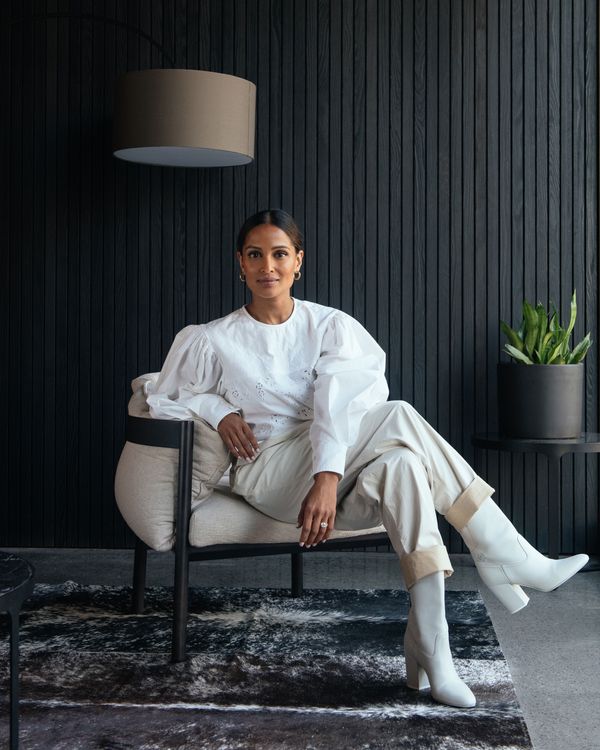 Doing the Most is a special series about ambition — how we define it, harness it, and conquer it.
Ask people to imagine a tech executive, and chances are they'll picture someone in a hooded sweatshirt or maybe a black turtleneck. There's a stereotype around how tech people dress, and it has no room for a woman like Kinjil Mathur, the chief marketing officer at Squarespace, who regularly shows up to work in a mix of sleek, monochromatic pieces by the likes of Isabel Marant, Chanel, and Reformation.
Mathur is happy to defy expectations. Born in Texas, she did a tour of the fashion world before landing in tech, working at Neiman Marcus and Condé Nast and then spending five years at Saks Fifth Avenue, where she became vice-president of digital marketing. Following Saks, Mathur hopped over to Foursquare before reaching Squarespace. In addition to her day job, she also serves as an executive committee member on the CFDA Fashion Trust and holds an advisory board position on Ellevest, a start-up focused on helping women invest.
The Cut caught up with Mathur at the sleek Squarespace offices. There, she talked about her version of a work uniform, the way her style has evolved, and why she never worries about spills.
On her everyday shoes: I'm trying to simplify my life wherever I can, so whatever I wear has to handle the walk to work and the stairs between Squarespace floors, plus transition seamlessly to post-work events. That means I'll wear something with a two-inch block heel or an ankle boot. My favorites are from Chanel, Dior, and Isabel Marant.
On going out after work: Six months ago I became a mama to Ceyone, my beautiful baby boy. So, these days I make it a point to be home for his bedtime. It's nice to take a breather, spend some quality time with my family. Plus there's the added bonus of being able to change and freshen up before heading out to the next event. It also allows me to get a little more playful in my look with pieces that don't make sense for the office, like a Brock Collection dress or some Johanna Ortiz wide-leg pants.
Shop Wide-Leg Pants
On what she wears to important meetings: I try not to overthink what I'm wearing. I've adopted a personal guideline for workday dressing that includes a monochrome palette — I'm almost always in all-white or all-black. It simplifies the getting-dressed process and frees up more time for meeting prep in the morning. I like brands like Sacai, Comme des Garçons, and Helmut Lang — they have interesting separates but they don't distract from what I'm saying. And as for staining my white clothes? I swear by being fearless and just going for it — spills really don't happen unless you're worrying about it.
On style in the tech space: While I work for a tech company, one of our core values is "Design is not a luxury," and you can see that in everything, down to our office space. We pay attention to detail and aesthetics, and the environment is filled with people who have a deep appreciation for design. That means there's a lot of great personal style, so luckily I don't feel as though I've had to alter my fashion choices to assimilate into a stereotypical tech environment.
On whom she dresses for: I'm an early riser, so by the time I'm leaving home, I've had enough time (and caffeine!) to determine what mood I need to set for myself to seize the day. What I wear has a big influence over how I feel. For example, if I have a day packed with creative thinking, I'll most likely wear something from a brand that inspires me, like Jacquemus.
On how her style has evolved: When I worked at Saks, I got a first look at the upcoming collections in market meetings, or directly from our merchant teams. I was working on editorial calendars that were a full season out and planning campaigns on the top fashion trends. Since I was immersed in fashion all day, it was hard not to obsess over new trends and preorder pieces in advance.
Nowadays, I'm less focused on trends simply because I'm not surrounded by them all day. I'm much more about editing my seasonal wardrobe down to a few staples. However, I still love discovering new designers, and I'm currently loving Khaite, Staud, and Markarian.
On her work uniform: You can't go wrong with black pants and a white button-down. I'll wear that with my hair pulled back in a low bun and gold hoop earrings. My favorite trousers are by Isabel Marant and 3.1 Phillip Lim, while my top shirts are by Saint Laurent and Reformation.
Shop White Shirts
On the last three things she bought: A sleek Hunting Season bag, a dress by Hong Kong designer Anais Jourden, and a simple the Line by K turtleneck.
On the one item that gives her the most confidence: If I want to look especially impressive, I can never go wrong with a Chanel black jacket and a personalized gold necklace with my son's name — Ceyone.
Kinjil wears Chanel boots, $1,250 available at Chanel boutiques nationwide.
If you buy something through our links, New York may earn an affiliate commission.