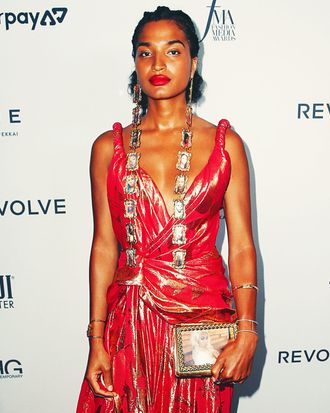 Indya Moore.
Photo: Dominik Bindl/Getty Images
Actress Indya Moore recently made what may be the most powerful fashion statement of the year.
At the Daily Front Row Fashion Media Awards, where Moore won Cover of the Year for their appearance on Elle's June 2019 issue, the Pose actress stepped onto the red carpet wearing accessories that sent a resonant message about the epidemic of violence against trans women: custom-designed earrings and a purse bearing photographs of the 17 black trans women who have been murdered in the U.S. in 2019.
"Just like me, these women dare to exhaust their freedom to exist by being visible; however, instead of being celebrated, they were punished for it," Moore wrote on Instagram alongside a photo of their look. "Existence that requires bravery is not freedom. A life that requires bravery is not free. I accept this award in honor of the truth that the best award and the award we all deserve is to be able to get home safe."
According to Vogue, the accessories were created in collaboration with jewelry designer Areeayl Yoseefaw of Beads Byaree, who wrote in an Instagram caption that Moore's stylist Ian Bradley reached out to her about designing the earrings. In the caption, Yoseefaw also reveals that the purse was a last-minute addition. "The issue [of violence against trans women] is so pressing that after creating the earring and three days before the event, Bailey Reeves, a 17-year-old girl from Baltimore, was killed," the caption reads. "For her, Indya carried a frame around with her face."
As noted by Moore in their Instagram caption, trans women — and in particular, trans women of color — face a disproportionately high level of violence. "While we make up .6 percent of the American population, the life expectancy of trans women/femmes is 35 years old," they wrote. And, in the face of this rising national epidemic, Moore has used their platform to raise awareness.
In an interview with the Cut last November, they said they want to "utilize [their] existence for" activism; clearly, this commitment extends to their sartorial decisions.