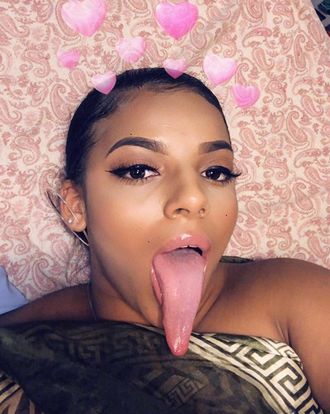 Mikayla Saravia is not like other influencers. In addition to standard Instagram fare (butts, bikinis, etc.) the 21-year-old has gained internet fame by elevating an unlikely asset: her tongue, which stretches an impressive 6.5 inches long.
Per LAD Bible, the Florida woman nets just shy of $100,000 each year with her tongue-centric photos and videos, the bulk of which are taken in the style of a classic thirst trap.
"Guess the length for follow back Happy Hump Day" reads a caption beneath one selfie, featuring the remarkable tongue; in others, Saravia licks various (generally phallic) food items, or simply twerks. These are the kinds of posts that make her up to $3,000 a pop, and have nabbed the influencer some 2 million (horny? confused? curious?) followers over the years.
It's not hard to understand the appeal of Saravia's tongue content. After all, we're in an era where the average person can obtain a sort of niche internet success by eating loudly or popping pimples. Saravia's tongue, being undeniably noteworthy and possessing a unique charisma of its own, is a perfect candidate for internet notoriety — and the money that comes with that.
And like any good entrepreneur, Saravia has leveraged her tongue into a larger brand proposition, selling merch like apparel, sex toys, and phone chargers via her app and website, supplementing the cash she makes with Instagram ads.
It's enterprising to say the least, and absolutely genius when you consider she's making roughly around as much as an investment banker in 2019.