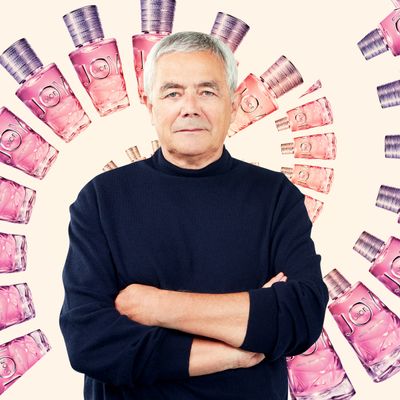 Scientific studies confirm that, of all the senses, smell offers the best recall. In Scent Memories, the Cut asks people about the scents they associate with different times in their lives.
Next up is Dior's master perfumer, François Demachy, creator of the new scent Joy by Dior Eau de Parfum Intense, an ode to the concept of light. The Cut caught up with Demachy to talk about the smell of the passage of time, ephemeral happiness, and the scent he made for himself.
My first scent memory is: My mother, for sure. My mother liked to wear two perfumes. One was Chanel No. 5 and the other was Miss Dior. I spent 20 years at Chanel and now I'm at Dior, so it's very funny. My mother was a pharmacist. I remember her selling a suntan lotion and an eau de cologne. I remember smelling the samples of the cologne with my mother.
Happiness smells like: Happiness or joy is linked to light. Just look outside! In many religions, you can find the association between light and joy. Joy is ultimately subjective, and not the same for everyone, but light is universal. I think of notes which by their very essence are linked to light, like roses and neroli.
Friendship smells like: There is an expression in French that when you don't like someone, we say we can't smell them. It also means, we can't stand them. Some people will never smell bad to you.
Regret smells like: It's about the passing of time. The smells that evoke regret are old-fashioned, like carnations. They're ones which aren't used very often anymore.
Success smells like: Champagne. Not only because of its smell, but because of the quality of it. It's bubbly — it's as ephemeral as success.
Vacation smells like: When we make perfume, we think about how smell affects your brain and memory. To remind you of a sunny day, we use raw materials like coconut which are in suntan products. Your brain remembers. For me, I think of suntan and salt.
A pleasant surprise smells like: I can't put my finger on one specific thing. I think a posy of flowers, filled with roses, rather than a jasmine which is more fleshy and sensual. Maybe the centifolia rose is too serious, so it would be some damascena roses.
The worst smell is: I don't like the smell of cumin. I know that it's good sometimes in perfume, but it's quite difficult for me to use. Otherwise, I don't like the smell of a plucked chicken. After you pluck the chicken, you put the chicken on a spit. The smell of the burning flesh is unbearable.
Sunday morning smells like: Time. We take our time to do things. For breakfast, I take time to linger. If I were to make a perfume based on this idea, I would use orange blossom. It's already in cosmetics, so it evokes the time we take for ourselves.
Monday morning smells like: Eau de cologne. I use a special cologne I made just for me. Since I'm a perfumer, I don't want smells I put on myself to stay too long on my skin. It's very simple, and relaxed. I made it without any musk, so it stays on the skin one hour and then it disappears.
I smell like: My scent smells like bergamot, lemon, bitter orange, and also grapefruit. I love grapefruit — it's something between citrus-y and also very sour. It helps me to wake up in the morning.
If you buy something through our links, New York may earn an affiliate commission.