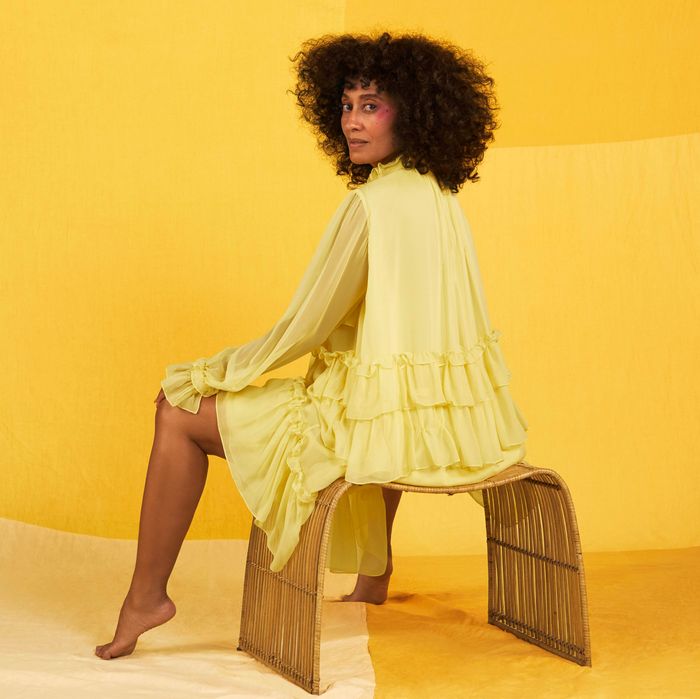 I showered with Tracee Ellis Ross. To be fair, it wasn't just me, and she was wearing a bathing suit. Ross is a newly minted beauty entrepreneur; her curly-hair-care brand, Pattern, will appear in 12,000 Ulta stores on September 22. To showcase the products, she invited me and 20 other beauty editors to watch her take a shower — sort of like beauty QVC, if the hosts had won Emmys.
Ross, with her halo of bouncy, juicy, fluffy curls, stood under a rainfall shower head and used baseball-size amounts of conditioner. She told us that six is her magic number (it's the number of ways she splits her hair as she applies product) and that she likes to apply leave-in conditioner prior to a cold rinse. The Cut caught up with Ross after she dried off (via scrunching, not rubbing — as any curly-hair goddess knows). Read on for her thoughts on entering into the beauty business, the story her hair could tell, and her former days as a New York Magazine fashion intern.
How do you think about beauty?
Beauty is about the heart. Beauty comes from the inside. It really is a personal, quite sacred relationship that you have with yourself.
The practice of beauty also has ritual in it. Think about the way men coiff their hair. I think of ex-boyfriends of mine — I would laugh, You have no hair! What are you even doing? But it was their special ritual.
What you just saw, the system of how I shower and create my curls, it's something I've been doing for 20 years. I discovered that process and it crystallized into this thing that gives me what I think it is my best hair.
Now you're in the business of beauty. How do you feel about that shift?
I feel great about it. My desire is to bring mindfulness, compassion, honesty, and sacredness to it. Someone asked me, "Did you make these products keeping in mind that this community can be very critical?" But I don't know if I would use the word "critical" — we just know what we want.
I specifically did not want to try and satisfy everyone. I wanted to create authentic products made with this community in mind. We tried 74 samples ourselves and a lot of them didn't work. This project is truly just an extension of how I've been doing my business of being a creative. It's another version of storytelling, but with products you can you use in the shower.
For many people, your mom is seen as a natural hair icon. Does it surprise you that you had an acceptance journey with your own natural hair? 
No. My contentious relationship with my hair started as a teenager. I loved my hair growing up. My aunts and my mom were supportive and made me feel beautiful. The wall I bumped up against was that of society and culture. The culture of entertainment is steeped in patriarchy and sexism. The messages I was getting outside my home were that my hair was not easy, breezy, bouncy, or behaving.
As a teen, I wasn't looking at my mom being like, Hey, what's cool? Now, at 46, I want to copy everything my mom does. But back then, I was like Ewww, go away. As a teen, I was trying to learn how to be lovable, likable, sexy, receivable. Not everyone has Diana Ross as a mom, I understand that, so there is a uniqueness to my story. But I am a human being and just as susceptible to the images that society has expressed to me systematically about my hair, beauty, and what box I'm meant to fit in.
What I'm saying from Pattern is that my beauty, my hair, your beauty, your hair — it's all gorgeous and sexy. My products aren't trying to make you want something you can't get. They're trying to say, "Let's do this, me and you. I see you, you see me — let's play."
You've said that the culture of beauty was steeped in racism, sexism, patriarchy, among other things. Have you ever thought about just not participating in beauty, for that reason?
Nah. I never think it's better not to participate. I participate by being one of the expanders within that. I know what people within the industry have done for me, how they've affected my confidence and relationship with beauty — seeing people like Lisa Bonet and Cree Summer, they made a difference to me. Even my mom is one of those people. They all start to weave into this larger fabric of a story.
To me, all of those spaces that feel limited and unrepresentative of the full picture — those are the ones that I want to go into and expand into something different. The success of Fenty Beauty happened because people finally felt represented. That was my feeling about this community. Like, Wait, why did I not get to have beautiful products which represent me and are for me? Why is my aisle all the way over there? Why are we in a different aisle? Why can't we all be in here? Let's expand the aisle instead of trying to redefine it.
Legend has it that you used to be an New York Magazine fashion intern. Tell us about that time.
That is so correct. I worked with Samira Nasr. We were both interns who moved from Mirabella to NYMag. It was a part of my journey and development. It added some new skills to my repertoire, and obviously, it created my lifetime friendship with Samira, who has been my best friend for over 20 years.
Our friendship was solidifed in the fashion department. At the time, we were in a building that had one conference room for the whole magazine and when we were doing a shoot, we would fill it with clothes and shoes. I did everything from book models to write insurance letters. It was a good time.
If you buy something through our links, New York may earn an affiliate commission.