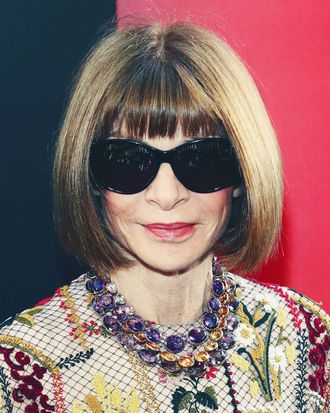 Photo: Taylor Hill/Getty Images
Escaping the onslaught of ads for Anna Wintour's "MasterClass" on Instagram should be a master class of its own. And while I had my reservations, I just couldn't resist the value prop of learning from someone who has led Vogue for 31 years; has hired and fired hundreds of people; and who is indubitably the most influential and powerful person in fashion, an industry she has spent her entire career upholding and enabling (for better or for worse). Plus, the only new and surprising thing we've learned about her in the past several years is that she loves a flip-flop. Maybe, I thought, she was finally going to open up a bit.
The online course, which promises lessons in "how to be a boss," begins with that same footage you've probably seen in the ad: Wintour, moving coolly through a crowd of rabid paparazzi (Anna, love the hair! Anna, Anna! Stop!), followed by a slideshow of her magazine covers. "Anna Wintour, you are a power," Christine Amanpour intones solemnly. Cue inspirational music.
In theory, for $90, the course gives you a dozen classes in "leadership and creativity" and "unprecedented access" into Wintour's world. It's produced by MasterClass, a polished online learning platform whose slogan is "online classes from the world's greatest minds" and which features lessons from the likes of Martin Scorsese and Serena Williams. (MasterClass did not respond to inquiries about whether it recruited Wintour for the course and what its fee structure with instructors is.)
I hadn't heard of the platform before now, but it looked promising: Anna Wintour is notoriously private, a woman who rarely reveals herself — here she was offering a chance to get inside her head. Again, I had strong reservations: Part of Wintour's extreme privacy is her tendency to stay mum on the controversies and criticism she's received while head of Vogue over the years. That said, I was sold on the proposition that if she was really engaging in lessons on leadership, she might cop to some of her mistakes.
So I joined the ranks of some 100 other students. A quick scan of the community forum revealed that many of them were, like myself, women working in fashion or media, eager to know if Anna would actually respond to anything in the community forum's "Dear Anna" advice column. She hasn't yet.
It's no secret that Condé Nast has struggled in recent years, including a $120 million hemorrhage in 2017 that forced it to sell three of its magazines and consolidate departments across titles. And Vogue, once the arbiter of fashion, taste, and culture, has struggled to fend off the forces of indifference from younger readers. Celebrities no longer need it in quite the same way now that they have their own social platforms, and when the news of Condé's shake-up broke in 2017, a few writers addressed the elephant in the room: With the democratization of high fashion via social media and blogging, does the fashion industry even need a magazine like Vogue? The answer, mostly, was no.
Part of the magazine's efforts to remain in the Zeitgeist involve turning Wintour into a brand in her own right and placing her at the forefront of its PR efforts. Take Vogue's "Go Ask Anna" video series, launched earlier this year and billed as the "anything-goes, see-what-Anna-really-thinks video series." Mostly it gives the impression that taping is being squeezed in in between meetings. (In the latest installment, Taylor Swift asked Wintour such intimate questions as "Where would you rather live forever, a lighthouse or a houseboat?") Surely, fashion's most powerful person has insight on things that matter more than this?
But the MasterClass, I soon found out, took a similar approach. The advice was banal ("Don't micromanage," "Be daring and take risks," "Have a broad range of experience"), and the accompanying PDF workbook is much the same, with 35 pages of leadership and success boilerplate lifted from a corporate-retreat handbook. Wintour opens the series by recounting her morning schedule, the same one that's been making the rounds since 2007.
In an attempt to flesh out Anna, the Human, lessons are mixed with anecdotes from her life as Vogue's leader: an escaped-peacock snafu at the 2007 Met Gala, or the time a businessman told her he loved Vogue because it was elegant, unlike Madonna, whom Wintour later deigned to put on the cover in an act of fashion-world anarchy. The 1989 Madonna cover — as well as 2014's Kimye cover — is framed as a controversy the editor deftly overcame ("I think there is always a time you know you have to break the rules").
Other controversies — her mutually advantageous relationship with Harvey Weinstein, or the John Galliano goodwill tour she launched following the designer's anti-Semitic comments — are not addressed. "It's very important to understand how your work fits into a much larger cultural narrative," she says in the session on editorial decision-making, and I can't help but recall the time in 2012 when Wintour gave Asma al-Assad, the wife of dictator Bashar al-Assad, a full Vogue spread. It was the same year Assad's regime murdered thousands of Syrian civilians, including children. Evidence that Vogue ever ran the story has been entirely scrubbed from the web (almost).
Other scenes felt like an attempt at reputation management, like the meeting where Wintour says something vague about wanting a spring issue to focus on "women's empowerment." She asks fashion news director Chioma Nnadi how runways looked this season. "In Europe there was a real embrace of gender fluidity," Nnadi responds, before going into some contrived hand-wringing over London runways: "It still felt like the girls were really young and thin." Wintour agrees, saying she'd "had words" with a number of designers that "were not well received." If this was indeed true, it makes you wonder how powerful this woman really is after all.
Much of the series mirrored this sort of neatly performed wokeness, with videos ceaselessly flashing Vogue spreads featuring nonwhite models as Wintour deadpans about "taking risks." But Vogue has, since its conception, been a gatekeeper for fashion's white, Western-centric taste-making. During Wintour's tenure, the magazine has had less than a dozen different nonwhite cover models, its 2015 Met Gala exhibit and theme was a cringeworthy ode to Orientalism, and its 2019 exhibit ignored the crucial role queer people of color played in the genesis of camp. In one lesson, Wintour name-checks Tyler Mitchell, the first black photographer to shoot a Vogue cover in its 126-year history. She just doesn't mention that part.
I wanted this class to live up to the potential it promised: to give me and other hungry, ambitious young women a real shot at learning something from one of the only women of her standing in media. But what we get, like Wintour's previous ventures in authenticity, is a highly produced branding exercise that serves only to further the mythmaking around her.
It occurs to me that I was kidding myself all along, though. The course —closed off, superficial, and with a penchant for glossing over anything unsightly — is how Anna Wintour and her Vogue have always operated. And maybe that's the biggest lesson here: When all you can offer is an empty gesture, the people who admire you will start to forget why.