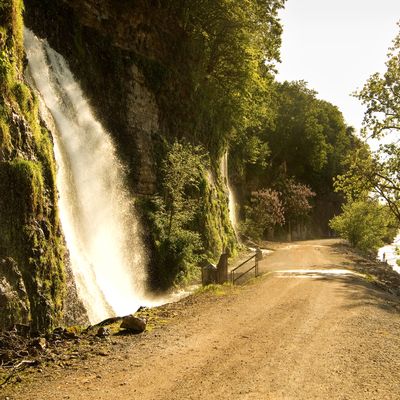 Wilson Dam in Florence, Alabama
Photo: John Coletti/Getty Images
In the northwest corner of Alabama, across the Tennessee River from R&B recording mecca Muscle Shoals, is Florence, a town of 39,000. Before NAFTA, Florence was the Cotton T-shirt Capital of the World.
"They used cotton that was grown around here," fashion designer Natalie Chanin told me, over heirloom BLTs and iced tea at The Factory Café, her farm-to-table restaurant located in Bldg. 14, one of 20 immense one-story former factories in an industrial park on the edge of town. Chanin is "eighth or ninth generation" southern and a Florence native. She remembers clearly when her hometown was the home of Tee Jays Manufacturing Co. In the early 1990s, pre-NAFTA, Tee Jays had an annual payroll of $50 million.
After the passage of NAFTA, U.S. T-shirt production moved offshore. Local manufacturers like Tee Jays ceased operations. Florence, like much of the textile-driven South, plunged into financial and social crisis. "In 1993, 5,000 worked in this two-block radius," Chanin said. "And that didn't include all the service industries — restaurants, day-care centers, gas stations. There used to be 20 dye houses in this town. When manufacturing collapsed here, everything collapsed."
Now, 25 years on, Chanin and her friend, Louisiana-born fashion designer Billy Reid, are helping Florence live up to its sobriquet of "Renaissance City."
At The Factory, Chanin and her team of 30 run Alabama Chanin, a womenswear brand specializing in flowing organic-cotton dresses and smart tailoring, all produced in the region. On Court Street, the town's main thoroughfare, Reid has his headquarters and a shop — one of 11 nationwide. His signature look is what a New York Times fashion writer described as "whiskey-soaked style": Crinkly seersucker blazers, crisp linen pants, frayed work shirts, cotton chemise dresses, and high-quality selvedge jeans abound.
To staff their companies, Chanin and Reid have recruited a tribe of young urbanites — in addition to Chanin's 30, Reid has 70 employees. That influx of creative sorts has spawned a slew of happening new businesses — gastropubs, boutique hotels, a microbrewery, and Single Lock Records, cofounded by local Grammy-winning musician John Paul White. Each August, Reid throws Shindig, a three-day celebration of southern food, music, fashion, and culture, open to the public. This year's edition, held two weeks ago, included the Billy Reid spring/summer 2020 fashion show in a local gym, concerts by Jack White and Margo Price at the historic Shoals Theatre, and the premiere of Ken Burns's latest documentary, Country Music in the park.
What Chanin and Reid are doing is known as slow fashion: a growing movement of makers, designers, merchants, and manufacturers worldwide who, in response to fast fashion and globalization, have significantly dialed back their pace and financial ambition, freeing themselves to focus more on creating items with inherent value, curating the customer experience, and reducing environmental impact. This quiet revolution is also driven by their desire to improve the quality of life for their families and their employees.
Slow fashion champions localization and regionalism rather than massification. It honors craftsmanship and respects tradition while embracing modern technology to make production cleaner and more efficient. It's about treating workers well, Chanin said, and "buying from the person down the street whose face you know and love."
Chanin grew up around cotton fields. Her maternal grandfather worked for the Tennessee Valley Authority, her paternal grandfather was a carpenter, and both were farmers. "My mother always throws out that she picked cotton to buy her school clothes," she said with a laugh. Chanin's maternal grandmother and great-grandmother worked at the Sweetwater Mill in Florence, producing military-issue underwear. Her grandmothers sewed at home — one "made everybody's underwear, nightgowns, everything," she said — and they showed her how, too. As a child, Chanin spent hours in her grandmother's attic, playing dress-up with vintage dresses, capes, and shawls. "That's how I fell in love with clothes," she told me. She came to New York in the late '80s to find her place in fashion, and she didn't love much of what she found. "I spent a lot of time overseas, and I saw a lot of things that I don't think are right — things that you don't want human beings to do," she said.
By 2000, she had found her signature look. She spent her days at Goodwill, buying T-shirts. She'd cut them up, collage them back together, and decorate them with unusual embroideries that had exposed knots and dangling threads. An antique corset she picked up at the Twenty-Sixth Street flea market served as inspiration. "I couldn't figure out what was the inside and what was the outside, and it had been cut away and added to," she recollected. "That's how I felt of my life at that point — inside out and upside down and sideways — so I turned the T-shirts inside out, revealing the work on the underside. And that defined our style."
To make a proper collection, Chanin needed help. She called on workshops in the Garment District. "I was trying to get them to do the fancy embroideries, and nobody could understand what I was talking about," she said. "Then I realized it looked like a quilting stitch, and if I wanted to get it made as I wanted, I needed to come home to Alabama, where people still quilted."
She looked to rent a home in the countryside where she grew up. Alabama has a long history of quilting, carried on by such associations as the Gee's Bend Collective and, until 2012, the Freedom Quilting Bee. Project Alabama was born.
One of Chanin's first look books landed on the desk of Julie Gilhart, then the high-profile fashion director for Barneys. Gilhart's forte was discovering and promoting young fashion talent, and she took a chance on Chanin. Several other retailers followed, including Ron Herman in Los Angeles and Browns in London.
From there, Chanin developed a more complete collection, with 1930s- and 1940s-style dresses and suits like Blanche DuBois wore in A Streetcar Named Desire. All were made in organic cotton or recycled materials, by seamstresses in Florence. Chanin's sales went well enough, with wholesale accounts at about $2 million. "But as we all know, building a fashion business is hard," she told me. "And building a fashion business based on artisan handwork in the U.S. is extremely difficult. Finally, in 2006, there came a point where ideas diverged and my business partner and I went our separate ways."
She decided to start over, rechristening her brand Alabama Chanin.
"Same people. New name," she said.
And no more New York anything.
Chanin wasn't alone. The technology that made globalization easier for giants like Zara and H&M to produce and sell so much also made it possible for small towns to become fashion hot spots. The status quo was ruptured, the power decentralized.
Chanin buys her fabrics from Signet Mills in Spartanburg, South Carolina — her preferred is jersey made of organic Texas cotton — and she works with a local artisan dyer for her indigo pieces. Chanin comes up with the designs, and her assistants execute them. When I visited, her sample sewer was a 68-year-old, pre-NAFTA garment employee named Sue Hanback. "She essentially came out of retirement to help us," Chanin said.
When a customer places an order online, Chanin's freelance seamstresses — about two dozen in total — bid for the job. They are all independent contractors, free to decide when, where, and for whom to work, and they build extra costs, such as supplies, utilities, health care, and other benefits, into their bid. She awards the project based "on timeliness or quality of work," she explained. The contracted sewer drives to Bldg. 14, picks up the kit, stitches it in a day or two, numbers and signs the finished garment, and brings it back to the Alabama Chanin HQ to be packaged and sent off to the customer. A hand-sewn double-layer organic cotton jersey dress retails for about $800; Chanin's hand-sewn organic cotton coats are almost $4,000. Of that, her sewers earn a minimum of 25 to 50 percent of the full retail price, depending on the complexity of the project.
Chanin does what she can to avoid labor issues that have long dogged the southern apparel industry. "There are a lot of people who ask, 'How do you know it's not child labor?' " she told me. "And I say, 'Well, we've known Miss Betty now for 16 years. She's 86 years old. She only does one particular kind of work. She doesn't have any kids at her house crocheting snap covers.' And it's why we have a rule that our sewers have to all live within an hour and a half of us; you have to pick up and drop off your work yourself. If somebody's coming in and taking 50 kits a week, it's a pretty good sign that they're not doing it themselves. It's just a more personal relationship. And it's all women."
"It's all women?" I asked.
"It's all women," she said.
The majority of her sales are online and made-to-order, usually with a three-to-six-week delivery time. When I visited her in 2016, 60 percent of her business was e-commerce; two years later, it was 80 percent.
As Chanin notes, it's about more than the profit. "We've stuck to our standards, even when it wasn't the easiest thing to do," she said. "I'm 100 percent self- owned — no partners. We don't owe the bank. We don't borrow money to produce the collection. We invest in young people and train them well. We have a deep commitment to our community."
Back before NAFTA, Chanin said, the local textile and apparel businesses "were growing the cotton; they were ginning the cotton; they were processing it." They went "straight from field to form." Reid and Chanin wanted to return to that business model, but with a modern twist: it would be organic.
Today, 99 percent of all cotton is genetically modified. "We found out that there is a dearth of [organic] cottonseeds on the planet," Chanin said. Eventually, they collected enough to plant their first crop. There were doubters. "We had a drought. We didn't water. We didn't do anything," Chanin said. "Weeds started coming up, and the cotton still grew and thrived."
The cotton was bagged and sent to a local gin, Scruggs & Vaden, to remove the seeds. Then it was shipped to Hill Spinning Mill, a 50-year-old mill in North Carolina, to be spun into thread. The mill's machines were sanitized before the organic cotton was processed and spun, so the chemicals from traditional cotton wouldn't contaminate it. The mill owner said he had never seen such clean cotton — the result of handpicking.
Much of the Chanin-Reid cotton was woven by Green Textile (now Signet Mills) in Spartanburg, South Carolina, into cloth — about 700 yards' worth — and sent back to Florence, where it was fashioned into clothing. "It took us about a year to take the cotton through the whole cycle," Chanin said.
She gave me one of the V-neck T-shirts. Made of a soft, dense vanilla jersey that is solidly seamed, it is one of the best-made, most comfortable shirts I have ever owned. Fashion folk throw around the word modern a lot. But Chanin and Reid's throwback model of hyperlocal, responsible, compassionate fashion may be the most modern of all.
From FASHIONOPOLIS: The Price of Fast Fashion–and the Future of Clothes by Dana Thomas, published by Penguin Press, an imprint of Penguin Publishing Group, a division of Penguin Random House LLC. Copyright © 2019 by Dana Thomas.