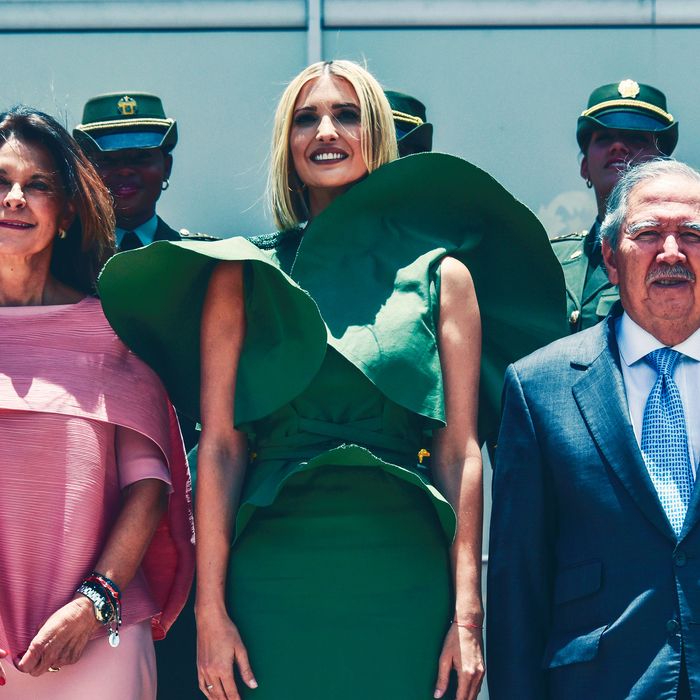 Ivanka Trump with vice-president of Colombia, Marta Lucía Ramírez, left, and Colombia's minister of National Defense, Guillermo Botero, right.
Photo: Guillermo Legaria Schweizer/Getty Images
All's well in the Capitol, it seems.
This week, First Daughter and White House adviser/empty vessel Ivanka Trump is visiting the outer districts to collect children for this year's Hunger Games. Haha, just kidding. Everyone knows the Hunger Games — a series of books and movies about a government that separates children from their families and lets them die in federal custody — is fiction. Actually, Ivanka's traveling around South America to promote her women's economic empowerment initiatives. On her tour, she stopped in Colombia, where she met with Vice-President Marta Lucía Ramírez, and wore what appeared to be a live, oversize succulent. Maybe a very large jade plant, or a Portulacaria afra, I think.
Or perhaps it's actually some sort of frilled-neck lizard, like the one that kills Newman in Jurassic Park, because as later photos from the event show, unless they're provoked by a potential predator, the sleeves usually hang down demurely.
This is not Ivanka's first official trip to Central and South America. In April 2018, she visited Peru to talk about women's empowerment initiatives at the Summit of the America's, but not before stopping to learn all about quinoa.
This week, Ivanka is also scheduled to visit Argentina and Paraguay to promote the administration's new Women's Global Development and Prosperity Initiative, which was established earlier this year.
Over the course of the trip, she will likely require minimal watering, but plenty of sunlight.