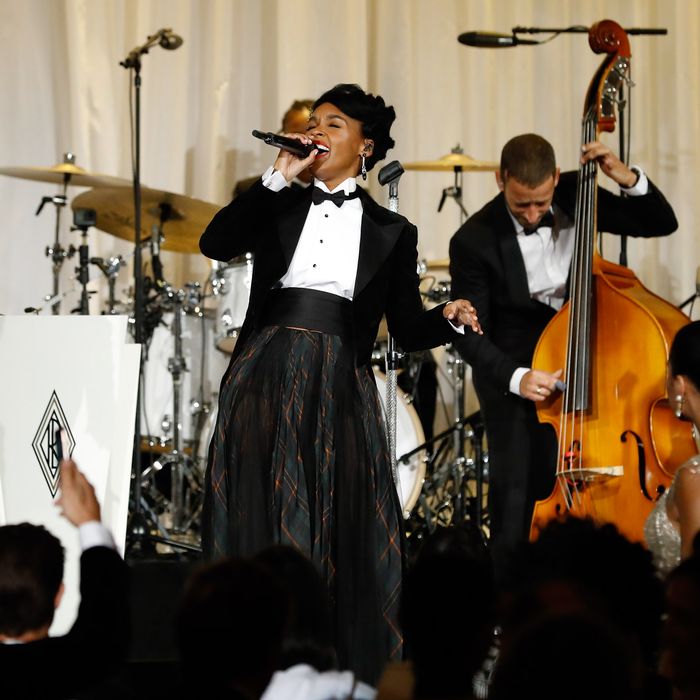 Photo: JP YIM/Getty Images
To showcase his fall 2019 women's collection, Ralph Lauren eschewed the traditional runway for "Ralph's Club," a one-night-only jazz club that paid homage to 1920s and 1930s New York City. While models like Gigi and Bella Hadid, Joan Smalls, and Taylor Hill walked through the venue in glittering overcoats, tuxedo jackets, and floor-length sequin gowns, there was even more glamour onstage, where Janelle Monáe reigned with an unforgettable performance.
In a backless, tuxedo-inspired halter top, detached white wrist cuffs, and a sheer plaid skirt with cummerbund, Monáe crooned jazz classics like Irving Berlin's "Let's Face the Music and Dance," Frank Sinatra's "Fly Me to the Moon," and Nat King Cole's "Smile." After a tribute to the designer, the 33-year-old singer moved the party offstage, switching to a high-energy performance and turning the entire room into her own personal musical playground.
While singing her 2010 song, "Come Alive (War of the Roses)," Monáe danced through the crowd, climbed on top of tables, crawled over the floor, flung food, splashed Champagne in the air, and even sat on a partygoer's lap, as guests like Anna Wintour, Henry Golding, Cate Blanchett, and Mandy Moore looked on. Indya Moore was also spotted dancing in front of Monáe as the singer whipped off her heels and returned to the stage to finish off the performance with some scat-singing.
There truly was no one better to invoke the spirit of the Jazz Age than Monáe. Watch the full performance below.