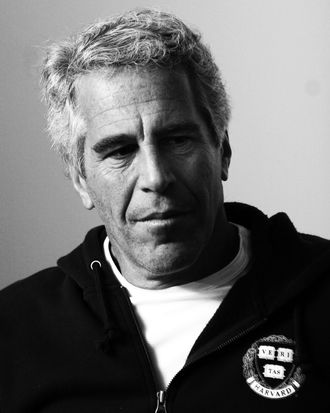 Jeffrey Epstein.
Photo: Rick Friedman/Corbis via Getty Images
French modeling agent Jean-Luc Brunel has been the subject of disturbing sexual-abuse allegations for decades. Way back in the late 1980s, numerous American models accused him of fostering an abusive culture at his agencies, though he faced no criminal consequences. More recently, his alleged behavior has come under increased scrutiny due to his ties to Jeffrey Epstein: a billionaire financier accused of operating a sex ring of underage girls, for which Brunel was alleged to have recruited young women. (He's also been accused of partaking in the alleged sex ring.) After Epstein was found dead by apparent suicide in his jail cell in early August, and nationwide focus turned toward his alleged accomplices, Brunel vanished.
In the time that Brunel was missing, the allegations against him only mounted: In mid-August, two models accused Brunel of sexual assault, which in part compelled French officials to launch a criminal investigation into charges that Brunel had sexually assaulted women and minors in France. Then, on September 24, le Parisien reported that Brunel had been found in South America, after weeks of being in hiding.
So … what happens now? Below, everything we know about the allegations against Jean-Luc Brunel and the charges he faces.
He's a modeling agent.
Brunel, 72, is the former head of Karin Models and MC2, two prestigious international modeling agencies. Per the Daily Beast, Brunel was also Epstein's "closest pal," and one "the financier's most frequent male associates."
He allegedly fostered a culture of abuse at his modeling agencies.
In 1987, American models who worked with Brunel went on 60 Minutes and described the abusive culture that Brunel allegedly fostered. In the episode, they say they were pressured into having sex with men out of fear that their career would suffer if they turned them down. Additionally, two of the featured women accused Brunel of drugging them; of those two, one said Brunel raped her while she was unconscious. (In an interview with the Daily Beast, Craig Pyes, who helped report the 60 Minutes episode, said more models than the ones who appeared on the episode spoke to him about assault they had allegedly suffered in Brunel's circle — they just didn't want to come forward on television.) Brunel, who did not appear in the episode, denied the models' allegations against him.
The allegations continued to mount. In Ian Halperin's 2003 book Bad and Beautiful, a former Karin model recounted an incident in which Brunel and his friends invited more than ten models to a party, saying that they were forced to have sex with the men. "Most of the women felt they had been raped," the former model said, per the Daily Beast. "But they were afraid to report it to the police because Brunel would ruin their careers."
Three former models have directly accused him of sexual assault.
Over the past few decades, three models have alleged that Brunel sexually assaulted them in the 1980s and 1990s in and around Paris.
The first model who accused him was Courtney Soerensen, one of the models featured on 60 Minutes. She says that in 1988, when she was 19, she traveled from her home in Pennsylvania to Paris, where Brunel made sexual advances toward her, and ruined her career when she declined them.
"He would get very handsy, start groping me, try to kiss me, try to get me to lay down on the bed just to 'try it out,'" Soerensen recently told the Guardian. "He would try to untuck my shirt, wanting to 'see my abs.' He would grab my breasts and put his hand on my bottom. There was one time where he rubbed himself up against me."
The two other models who have accused Brunel of sexual assault came forward in mid-August of this year — after Brunel was already hiding. In a report published in the Guardian, Dutch model Thysia Huisman accused Brunel of spiking her drink and raping her in 1991, when she was just 18. After her agents suggested that she meet with Brunel, who was then at Karin Models, Huisman traveled to his Paris apartment, where he offered to let her stay; she says she was uncomfortable there, as she recalls being surrounded by older businessmen and young models who appeared to be sleeping together, but that she stuck it out for her career. On her last day staying at the apartment, Huisman says Brunel took her to his bedroom without her consent after giving her a drink that made her "woozy."
"I remember trying to move, but not really being able to," she told the Guardian. "Like almost being paralysed. I heard the sound of my blouse, a black blouse, ripping. I had a black skirt, too. I felt him — this is difficult — between my legs. Pushing."
The other former model, who has requested anonymity, says Brunel — who scouted her in the U.S. — assaulted her outside Paris in the mid 1980s, when she was around 20 years old. While she does not recall the exact location of the alleged assault, as she says Brunel drove her to an estate in an area she didn't recognize, she recalls the details of the alleged assault with clarity.
After Brunel took a shower, the woman says he "was grabbing [her] breasts and [her] crotch," while she kept saying, "Why are you doing this? I don't want to do this." She says she escaped by getting out onto the window ledge, where she slept through the night.
Brunel has not responded to the two recent accusations.
Brunel was allegedly one of Epstein's most frequent associates.
Both Brunel and Epstein allegedly had proclivities for sexual relations with nonconsenting underage girls, so it's perhaps unsurprising that the two eventually cozied up to one another. While the exact date that Brunel and Epstein met is yet unclear, the Daily Beast reports that it was no later than the 2005 launch of MC2, which Epstein financed.
In a 2015 affidavit, Virginia Giuffre — one of the dozens of women who have accused Epstein and his powerful friends of abusing her when she was underage — claimed that Brunel "could get dozens of underage girls and feed Epstein's strong appetite for sex with minors." How Brunel would do this, Giuffre claimed, would be by promising young girls "good money"; then, Brunel would "farm [the girls] out to his friends," such as Epstein, "for sexual purposes." Giuffre, who claims she was forced to have sex with Brunel, also said in the affidavit that Epstein bragged to her that he had "slept with over 1,000 of Brunel's girls."
(In response to Giuffre's allegations, Brunel said in a statement in 2015, "I strongly deny having committed any illicit act or any wrongdoing in the course of my work.")
More recently, Brunel's name appeared in the recently unsealed court documents from 2015 that shed a damning light on Epstein's alleged sex-trafficking ring. Included in the documents were telephone messages to Epstein, which featured a note "for Jeffrey, from Jean Luc," in which Brunel appears to be offering Epstein an underage girl. The message reads: "He has a teacher for you to teach you how to speak Russian. She is 2X8 years old not blonde. Lessons are free and you can have your 1st today if you call."
At some point, Brunel's relationship with Epstein turned sour. In January 2015, Brunel sued Epstein over the "adverse publicity surrounding Epstein and his illegal activities," and claimed that it had left him "emotionally destroyed."
Brunel is under investigation by Parisian officials.
Between the new allegations against Brunel and Epstein's ownership of an apartment in Paris, French authorities decided in August to launch their own investigation into potential sex crimes committed against French citizens. The week leading up to Brunel's discovery, French investigators searched his home, the Karin Models office, and Epstein's apartment, ABC News reports.
Per the Telegraph, what will happen next to Brunel is yet to be determined, as it's unclear whether he has spoken to French prosecutors. Earlier this month, though, French police urged potential victims or witnesses with ties to Epstein to come forward to help their investigation.
While Epstein may be dead, the investigation into his alleged sex ring — the powerful figures around the world who allegedly helped sustain it — is just getting started.