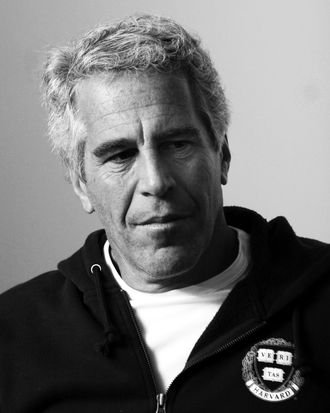 Photo: Rick Friedman/Corbis via Getty Images
The magnitude of abuse accusations brought against the recently deceased Jeffrey Epstein is truly grotesque, and allegations continue to make their way into the media. Now several dancers and former dancers have claimed Epstein assaulted them, too.
The New York Times reported on Tuesday that — according to lawsuits filed against Epstein's estate in the days since he died, by suicide, in a Manhattan jail cell where he was being held on sex-trafficking charges — people in Epstein's circle had recruited some of his young victims from New York City dance studios. As with many of his other victims, Epstein allegedly lured the aspiring performers into his grasp through a network of recruiters under the pretense of assisting their careers.
One woman, identified in the lawsuit as Lisa, said a fellow dancer approached her after a ballet class in 2002 and recruited her to give Epstein private exercise classes at his Manhattan townhouse. Epstein was immediately overly familiar, demanding "several sexually charged stretching activities," per the Times, and on the third visit, he requested a massage and then assaulted her with a sex toy and masturbated. She claims he implied it would be ruinous for her career if she didn't go along with it. Their abusive relationship allegedly continued for eight years. Following the initial attack, Lisa says Epstein gave her $300 and a book called Massage for Dummies.
Another dancer, referred to as Priscilla Doe in court documents, says she was recruited to give Epstein massages in 2006, when she was 20 years old. During her third massage appointment with Epstein, according to the Times, he assaulted her with his hands and with sex toys and told her that he could help her dancing career "if she would do what he wanted to do." He continued to coerce her into sex until 2010, she says, and once held her down and threatened her after she posted on social media about traveling to his private island, leaving her "in fear for her safety and her life."
In court papers, Priscilla Doe also claims Epstein flew her to Florida during his notoriously lenient 13-month stint in a state jail, during which he was allowed to spend 12 hours a day, six days a week outside of the facility on "work release." While the billionaire sex offender was technically incarcerated, the documents say, he had sex with Doe at his Palm Beach mansion — wearing his ankle monitor for the house arrest. Per the Times, she's not the only woman who claims Epstein flew her to Florida for sex while he was serving time.
In addition to reporting on lawsuits filed by women who say Epstein sexually exploited them, the Times spoke with a dancer named Marlo Fisken whom Epstein hired as a personal trainer in 2006, when she was in her early 20s. Fisken says she didn't work for him for long. The Times reports that, after a few sessions, Epstein asked her to "massage his testicles to help with flexibility," a request she refused to gratify.