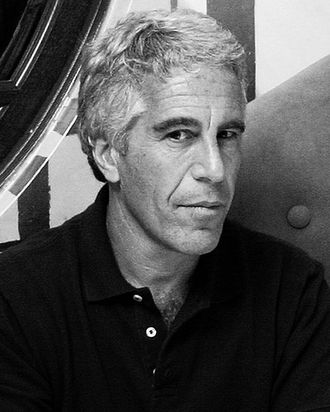 Jeffrey Epstein
Photo: Rick Friedman/Corbis via Getty Images
Even in death Jeffrey Epstein grows more monstrous. The latest comes to us from a previously undisclosed federal investigation whose records suggest that Epstein traveled with girls as recently as last year.
The Associated Press reported on Wednesday that in July U.S. Marshals Service investigators talked to an air traffic controller who attested to having seen Epstein exit his private jet in the Virgin Islands (where one of his many real-estate properties was located) with two girls who seemed to be 11 or 12. On a separate occasion she saw another girl with Epstein who looked somewhere between 16 and 18 years old. Both sightings occurred between June and November of last year.
The interview took place on July 10, four days after Epstein was arrested on sex-trafficking charges and imprisoned at Manhattan's Metropolitan Correctional Center, where a month later he died by suicide. The documents associated with the investigation were made public by the Marshals Service after Muckrock News filed the appropriate Freedom of Information Act request.
Epstein, who served a lenient prison sentence in 2009 after pleading guilty to two state prostitution charges, was a registered sex offender and required under a statute known as International Megan's Law to report any planned international travel to authorities at least 21 days prior to their departure. The documents show that Epstein informed authorities about a trip from the Virgin Islands to Paris a mere four days ahead of time and didn't clue them in at all about subsequent trips to Vienna, Austria, and Monaco. Investigators and federal prosecutors reportedly agreed to forgo the Megan's Law investigation two days after Epstein's death.