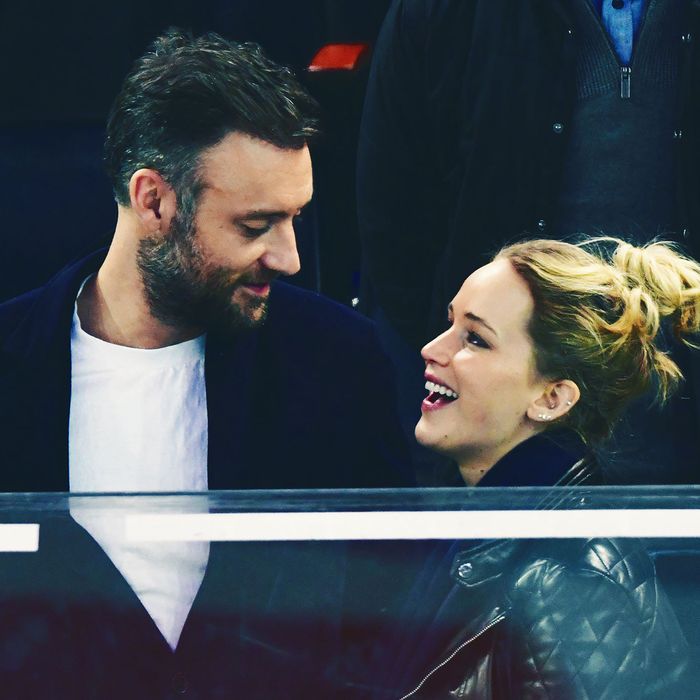 Cooke Maroney and Jennifer Lawrence.
Photo: JD Images/Shutterstock
Did noted fiancés Jennifer Lawrence and Cooke Maroney recently take a quick jaunt down to the New York City Marriage Bureau to grab a marriage license ahead of their low-key wedding ceremony next month? Or did they actually go ahead and become Mr. and Mrs. J.Law?
Here is what we know: According to "Page Six," Lawrence and her art-world beau were spotted at the Marriage Bureau in Manhattan on Monday, and not just by themselves. They were accompanied by two security guards — which is to be expected — but also noted celebrity photographer Mark Seliger and an unidentified friend of the pair. (Or should we be saying "witness"?)
Now it's entirely possible that the two, who have been kissing for a little over a year now, were just enthusiastically preparing their paperwork; Lawrence did recently express her admiration for the bureaucracy around the institution of marriage, proclaiming on a podcast, "I want to legally bind [Cooke Maroney] to me forever. And fortunately the paperwork exists for such a thing. It's the greatest. You find your favorite person in the planet and you're like, you can't leave." Also, as "Page Six" notes, the couple — who was seen clutching papers — was "dressed down."
But in the very same sentence, the outlet also reports that the pair was "beaming." Additionally, in a now-deleted tweet, an onlooker at the bureau reportedly wrote, "When you go get your marriage license and Jennifer Lawrence walks by to tie the knot before your eyes. Yeah, kids, City Hall is COOL. The place to go!" (The outlet also claims to be in possession of a photo in which Maroney "seems to be covering his ring finger on his left hand outside the building." Hmm!)
To think, we didn't even know what a "Cooke Maroney" was a year and a half ago.