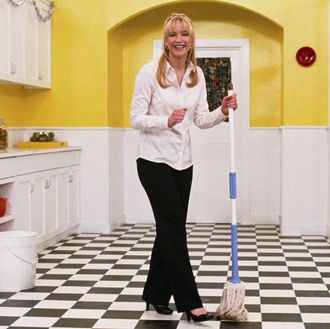 Photo: Twentieth Century Fox
Hot on the heels of Jeremy Renner's Amazon store full of all the fishing gear and compound bows a person could want, Jennifer Lawrence has released an Amazon wedding-registry guide? It's not actually her own registry, of course; it's a list of all the things she thinks happy couples should register for. Obviously Lawrence, a very wealthy person, already has her own nice set of dinner plates and a yoga mat. But these are the nice dinner plates and yoga mat she thinks you, a regular plebe, should register for on the occasion of your nuptials.
Browsing around the list, you find a disorienting combination of obvious registry choices and just enough kookiness to convince you that, yes, a celebrity who's not exactly in touch with the needs of regular people may have had some say in putting this guide together. For instance, a $2,000 indoor exercise bike! Or a copper firepit or an air fryer. Or a whiskey decanter etched to look like a globe. Or, mysteriously, both a Ninja multi-cooker and an Instant Pot? Maybe J.Law and Cooke Maroney are a mixed Ninja/Instant Pot household?
Lawrence's Amazon registry guide seems like just the tip of the iceberg of depressing and confusing celebrity sponcon opportunities in the digital age, and although it's mildly entertaining to browse her selections, it's mostly interesting for the way the list nearly destabilizes the very idea of what a wedding registry is. Do people really use their wedding registries to get people to buy them … moisturizer?!
Update, September 24, 2:55 p.m.: After initially noting that Jennifer Lawrence's wedding-registry guide included an exercise bike, an Instant Pot, and an Air Fryer, a publicist for Amazon reached out to clarify that, in fact, those items are not hand-selected by Lawrence. Even though they are included in the linked "explore" sections of the guide and there's no indication they were chosen by anyone other than Lawrence, please note that Jennifer Lawrence apparently did not personally recommend anyone purchase an Instant Pot. She did, however, recommend a copper fondue set, which would coordinate nicely with the copper fire pit she also recommended.