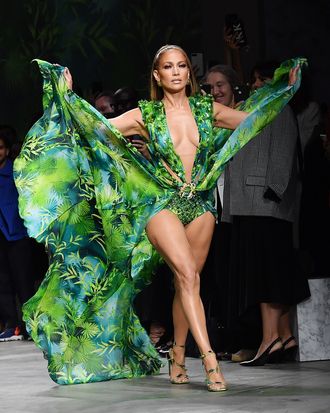 Jennifer Lopez.
Photo: Jacopo Raule/Getty Images
Did you know that Jennifer Lopez is responsible for Google Images? In the year 2000, she made fashion (and tech) history when she wore Versace's impossibly deep-V "jungle" dress to the Grammy Awards. So many people searched for photos of the look on Google that Eric Schmidt decided there should be a way to look for images, not just links, and thus Google Images was born. Today, at Versace's spring/summer 2020 show in Milan, J.Lo appeared wearing a similar green dress, looking like she had the power to make time stand still for 19 years.
Rumors had been circling around Milan that Lopez would walk in the show. The Versace invitation was a little flip book with a Google search: "Versace women's ss 2020." Lopez was spotted in Milan this week, which fueled rumors that she would walk. Versace also has a habit of reminding audiences of its iconic looks from the '90s and 2000s. Stephanie Seymour came out of retirement to walk in the fall 2019 show last season, and who can forget when Carla Bruni, Claudia Schiffer, Naomi Campbell, Cindy Crawford, and Helena Christensen closed in spring 2018?
Well, the rumors were true: J.Lo walked. So did Kendall Jenner, Gigi and Bella, Kaia Gerber — in fact, they walked to J.Lo songs like "My Love Don't Cost a Thing." After Amber Valetta came down the circular runway in the last of the new spring 2020 collection, the lights went down. A Google Image search flashed on screens in front of the guests. "Okay Google, show me images of the Versace jungle dress." Photos of J.Lo from 2000 popped up on the screen. "Okay google, show me the real jungle dress." And voila! J.Lo from 2019 appeared and strutted around the runway. The sleeves and cut-outs of the dress were different, but the print and neckline were the same. Then she joined Donatella Versace for her bow. That's how you close a show.