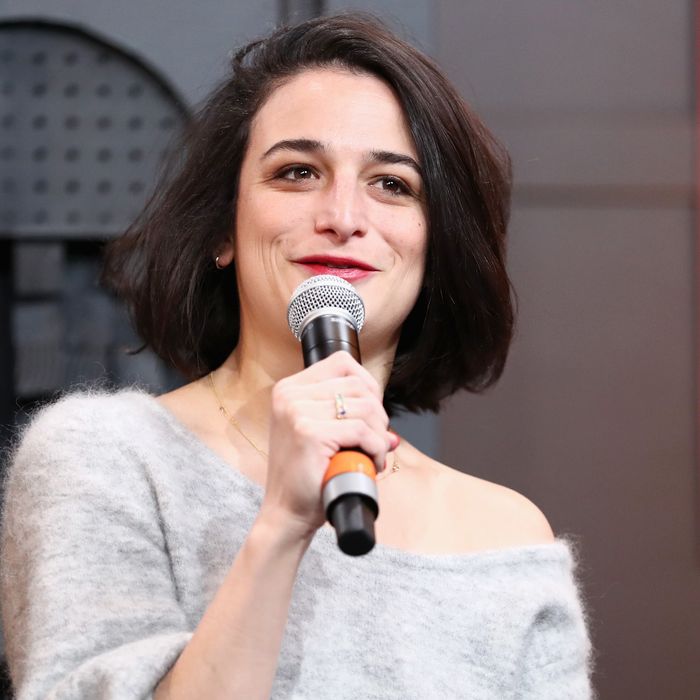 Photo: Rich Fury/Getty Images
Congratulations to Jenny Slate, who just got engaged to her boyfriend, Ben Shattuck, while the two were vacationing in France! The actress shared the news in an Instagram post with a series of photos from their trip.
"He took me to France and made a picnic and made me feel happy and free and then he asked me to marry him and i screamed YES. I love you @benshattuck_art, you are the kindest and brightest and I am so grateful and here we go and keep going," Slate wrote. In one of the photos, the bride-to-be showed off her ring, which appears to be a dark-colored stone in an antique setting.
Shattuck, an artist and writer, also posted the news on his Instagram, with a photo of Slate. "In an abandoned castle in southern France, I asked this woman to marry me. Here she is in front of a door the color of her soul," he wrote. It's all very sweet!
According to Us Weekly, Slate and Shattuck made their debut as a couple at the Sundance Film Festival in January. Prior to dating Shattuck, the 37-year-old actress, who will star in the upcoming Sofia Coppola film On the Rocks, had dated Chris Evans on and off for two years. She was also married to editor and director Dean Fleischer-Camp for four years before splitting up in 2016.
During an episode of Refinery29's Unstyled podcast back in June, Slate said she "really needed to figure out what I thought about myself when a man was not defining that for me" and described her past relationships as being unhealthy. "I have this faith now — I do — that I can have this beautiful relationship with this man that I deeply love," she said. "That I can have a full life, that I can live on this peninsula in Massachusetts where I live right now, and have my career, and that I can feel beauty in myself in so many ways."
Aww. Mazel!