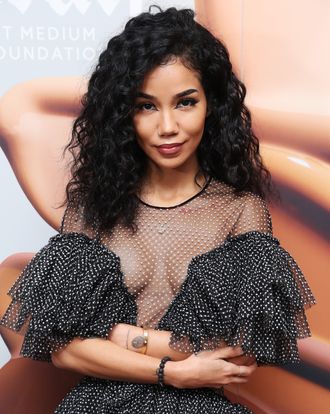 Photo: Cindy Ord/Getty Images for Kat Von D Beaut
Jhené Aiko has given us a lot: excellent B2K video cameos, a book of poetry, endless free skinspiration via her entire Instagram, an honest review of Fraxel, and most recently, listenable relaxation and alchemy healing via her Trigger Protection Mantra recording.
Last month, Aiko became the face of Kat Von D Beauty's new True Portrait Foundation and the gifts keep coming. In addition to giving us this ad campaign featuring a photogenic cat, Aiko filmed an ASMR video to introduce us to the product that gets you the natural-looking glow of someone like Aiko who drinks enough water, prioritizes sleep, puts effort into her skin care, and doesn't want to completely cover all that hard work up.
The Cut recently caught up with Aiko before True Portrait's launch to talk deep breaths, brows, and alkalized water.
You've previously been very open about your skin-care routine on social media; can you give us a 2019 update? Are you still getting Fraxel? Trying anything new?
I haven't done Fraxel in 2019. I've been keeping it more natural, mixing up my own little concoctions. My skin is really sensitive and the treatments can get expensive; I think the last one I got was probably the beginning of last year. So now my routine is more about maintaining previous results. I really like neem oil and calendula oil. I had a rash a while ago and I just used chamomile and oatmeal in a bath. I soaked in it and put it on my face, my whole body. Ever since then, if anything happens, that's my go-to. It's inexpensive, you know? The weather, my stress levels, where I'm at, the climate all affect my skin so I always have a bunch of stuff at hand so I can mix this with that and customize.
What's your nighttime beauty routine like?
I love a good bath, I love a good soak. I love sheet masks, I'm always trying out different ones. I definitely wash my face, whether I have makeup on or not. There have been a few times when I'm just so tired, I'll go to sleep. It makes such a difference when I don't wash my face. I will literally have a pimple the next day and be like F***! Getting enough sleep, too. Making sure I have enough time to get at least eight hours because my skin really responds to sleep. If I don't get enough sleep my skin will be like Why?!?!
What time do you go to bed?
I've been recording for a while now and it really throws off my sleep. Sometimes I'll leave early and I can get to bed at 11 pm, which is kind of early for me. But lately, I've been going to sleep at 4 a.m. or 5 a.m. The last couple of times I was in the studio I went to bed at 8 a.m. But luckily I don't have a 9 to 5, so I can work around whenever I get to sleep. I sleep like a growing boy; I sleep like I'm 13 years old. But I get a lot of inspiration from my dreams, so I think I get deep in my dream world. It's my favorite thing to do: Sleep.
Do you remember your dreams a lot?
I do! I've definitely written songs and stuff that was in my dreams before. In the short film that I put out with my last album, there's a part with me and my brother that was blow by blow something I dreamt about. As soon as I woke up, I wrote it down. I've been trying to practice doing that more, as soon as I wake up to write it down, even if it's silly.
A lot of people also cite water as their beauty secret. How do you like your water?
I like room temperature, and at home, I have a Kangen water machine. It's a Japanese water machine that alkalizes your water, and it has different levels so, water for your hair, water to clean with, water to drink, water to make tea and coffee with. It's my favorite water, but I can't travel with it, so I always try to have water in glass bottles because I try not to do a lot of plastic.
What eats up more of your time: caring for and doing your face, or caring for and doing your hair?
Ooh. My hair for sure. Sometimes I have good skin days and I'm like Oh, just spray some rose water on it and go. But my hair … you seem like you have curly hair too, so you know how curls go. Some days it'll be good and some days you're like What? I did the same thing that I always do. That's why my hair's always different [laughs].
What's your favorite way to apply foundation? Are you more team hands, team brush or team sponge?
With this foundation, what I love about it is the feel of it. So I like to apply it with my fingertips. I like making it a real self-care moment with a little massage.
What have you taught your daughter about beauty? What has she taught you, directly or indirectly, about beauty and how you view it?
She's definitely taught me to be more comfortable in my skin and to accept myself, just by looking at her and seeing how beautiful she is. I'll always think that no matter what. She's opened my eyes to see everyone's beauty, including my own.
I want to lead by example and I've been teaching her about taking care of her skin, drinking water, taking her vitamins and eating her vegetables, and washing her face in the morning, when she gets home from school, and before she goes to sleep. She'll be 11, so she's starting to go through her hormonal changes. I'm always telling her, "You gotta wash your face if you don't want those bumps showing up, you gotta wash your hands!"
I've also been telling her not to touch her hair. Don't dye it, and don't straighten it, because she has such beautiful, thick hair. I wish I never changed it. One time, I dyed my hair and it just totally changed my curl pattern. Oh, and don't touch your eyebrows! I clean up her eyebrows myself. She has such great ones.
Your fans on YouTube finally got their wish: You filming an ASMR video. Was it hard to whisper for that long?
It was. I watch ASMR; my favorites are the soap-cutting ones and when they're eating the ice, but that's a wholly different type. The whispering ones are all about the little clicks and stuff, and I wasn't sure if I was whispering too loud the entire time. But I just did it my own way, and it was really fun; it was a dream come true.
What's the last song that was stuck in your head?
A song that I just did with Summer Walker … that's not out yet!
What's on your phone's lock screen?
It's a little painting of a Buddha-like figure and it says, "Breathe." And I just use it as a reminder to breathe — before I answer a call or anything. Thich Nhat Hanh, he's an author that I read a lot, that was one of his practices. The phone causes us so much anxiety. So with that as my background and lock screen, I'm just [takes a deep breath]. It just keeps you in a good place.
What's the last thing you binged watched?
This show called Love, Death & Robots on Netflix. And that was one of those nights I stayed up until 8 a.m. because it's so good.
And last but not least, what's your favorite snack?
Okay. I love Oreos. That's the best sweet snack. For my salty snack, I really just like chips and salsa, or guacamole. Or! An avocado with some salt and pepper on it.
If you buy something through our links, New York may earn an affiliate commission.