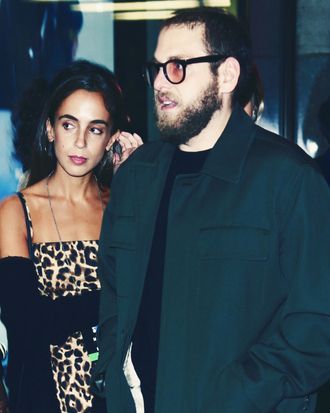 Photo: Odette Martin/Shutterstock
Jonah Hill is engaged to his girlfriend of one year, Gianna Santos. Meanwhile, life goes on, and presumably everyone around him will continue to validate his daring fashion choices — a beguiling mixture of tie-dyed shirts, fisherman hats, and Prada.
People reports that the bride-to-be is a manager for beauty company Violet Gray and has held previous jobs at Kith NYC and HBO, according to her LinkedIn. She and Hill were first thought of as a couple in August 2018 after they were seen walking together through New York City. On Labor Day they were spotted heading to brunch together; Santos appeared to be wearing an engagement ring.
Pics of the happy couple are hard to come by, but here's one from Hill's mom's Instagram of the two surrounded by loved ones, looking absolutely inscrutable.
According to E! News, Santos has frequently appeared in Jonah's family's Instagram images, be they of Passover, Hanukkah, or Thanksgiving celebrations.
Variety reported on Tuesday that Hill recently paid $6.8 million for a Southern Colonial–style residency in Santa Monica. The house features a swimming pool and an inset spa and a brick pizza oven and a guesthouse that has its own sauna. Variety describes the house as "undeniably classy," situated such that it allows "for cool canyon breezes to gently caress the structure." In short, the house is crawling with sensations: hot, cool, windy, you name it. A smattering of exterior doors are ideal for leaving the house at one's leisure. Congrats to the happy couple!