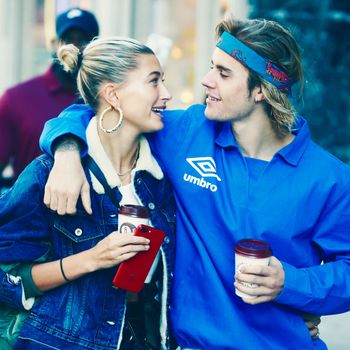 Hailey Baldwin and Justin Bieber.
Photo: Ralph Petts / SplashNews.com
Ever since they legally (and secretly) tied the knot in a Manhattan courthouse in September 2018, Justin Bieber and Hailey Baldwin have been planning their big Christian wedding ceremony. And today, after a full year, they're finally going ahead with it.
Baldwin and Bieber "realized that they actually felt like husband and wife without having a religious ceremony," a source told People after the couple's marriage last year (which did not involve a prenup). But they wanted one anyway. And although the ceremony was put on hold a few times, today, Bieber and Baldwin will finally be celebrating their union with a big southern bash. Here is what we know about the looming nuptials.
The big day is here.
Earlier this year, "Page Six" and TMZ reported that the couple's wedding would take place over the weekend of March 1, which just so happened to be Bieber's 25th birthday. And then the details started to change, with sources reporting that the couple had delayed the ceremony for the third time due to certain loved ones' being unable to make it. A source who spoke to People in mid-March said that the couple had put the wedding on indefinite hold, as Bieber focused on his mental-health struggles.
By June, Us Weekly reported that the couple might be close to setting a date finally. "They have talked about possibly having their wedding closer to their one-year marriage anniversary date in September," a source said.
Finally, Baldwin and Bieber have a date to which they are almost definitely sticking. In August, TMZ got its hands on a save-the-date invite that features comic book–style art of the couple, with the ceremony date listed as September 30. (Yes, it's a Monday. No, we have no idea as to why.)
Bieber, who's been posting nostalgic throwback photos of himself and Baldwin looking like actual babies, is clearly excited.
Where will the wedding take place?
Last September, Baldwin told the Cut that she was drawn to more natural settings on the West Coast, and that she thought "having it in the woods would be so beautiful." That … went out the window. Instead, Baldwin and Bieber decided on a South Carolina setting for their second nuptials — specifically, the Montage Palmetto Bluff, a 20,000-acre luxury waterfront resort.
Expect partying and praying.
A big Christian wedding, where guests can simultaneously partake in the married couple's favorite pastimes: praying and partying. There will apparently be dancers, and Bieber's personal DJ, Tay James, will be behind the music. TMZ also reports that the event will be spearheaded by Mindy Weiss, who is the go-to party planner for Baldwin's friends, the Kardashian-Jenners. (She's also the brain behind Kylie Jenner's daughter Stormi's unforgettable first birthday party). And while we know nothing about the dress, Baldwin told the Cut that she already had a designer picked out. (What tux Bieber will wear is yet unclear. As long as it's not one of these absurd options he jokingly posted to his Instagram yesterday, I'm sure it'll be fine.)
Also there's apparently going to be abundant fresh juice at this festivity. According to TMZ, the Biebers ordered 20 gallons of organic fruit and vegetable liquid from local shop the Juice Hive, which altogether cost the couple $1,200. (The Juice Hive told TMZ it threw in a special gallon for the husband and wife, which it's calling the "Bieber Bee": a mix of celery, watermelon, lime, mint, and cucumber juices.)
They're inviting many of their "Christian friends."
Their guest list is quite eclectic: Aside from the couple's family members and Baldwin's close friends, like Kendall Jenner and the Hadids, the couple is inviting "a lot of their pastor friends and a lot of their Christian friends," Baldwin's dad recently told TMZ. In total, 154 people will reportedly be in attendance. (As noted by TMZ, that means every will guest will be able to indulge in more than 16 ounces of fresh juice. What a luxury!)
It's not exactly clear who all will be in the wedding, though. As of now, we know that Alaia and Ireland Baldwin will be bridesmaids, and that Baldwin's dad will walk her down the aisle. And, though plans may have changed, Baldwin told the Cut last September that the couple was thinking of having Bieber's little sister Jazmyn be the flower girl, as long as the 10-year-old isn't "too old" to have that role. Guess we'll just have to wait and see who Bieber picked to be his best man.
Fingers crossed that Alec Baldwin is also in attendance, to give his niece some of his signature marriage advice (and manage not to punch anyone).
The Biebers are already ruining total strangers' luxury vacations.
Before even landing in South Carolina, the couple was already pissing off strangers who are staying at the resort. According to TMZ, guests at Montage Palmetto Bluff are "LIVID" — indeed, LIVID — because the Biebers have ordered the resort to close off the spa, pool, and one "fancy restaurant" from guests, from noon this Sunday through next Tuesday. Apparently, the Biebers want "the most prized areas on the property" to be accessible by their friends and family, only. To make matters worse, the hotel only informed guests of this indignity this past week via email, which TMZ recently obtained.
In an attempt to assuage guests' frustration, TMZ reports that the Montage is offering "guests refunds, alternate bookings and upgrades … and for those willing to brave the Bieber nuptials, dinner on the house in one of the other restaurants." However, I'm assuming this other restaurant is not as fancy as the Bieber's pick.
This post has been updated.