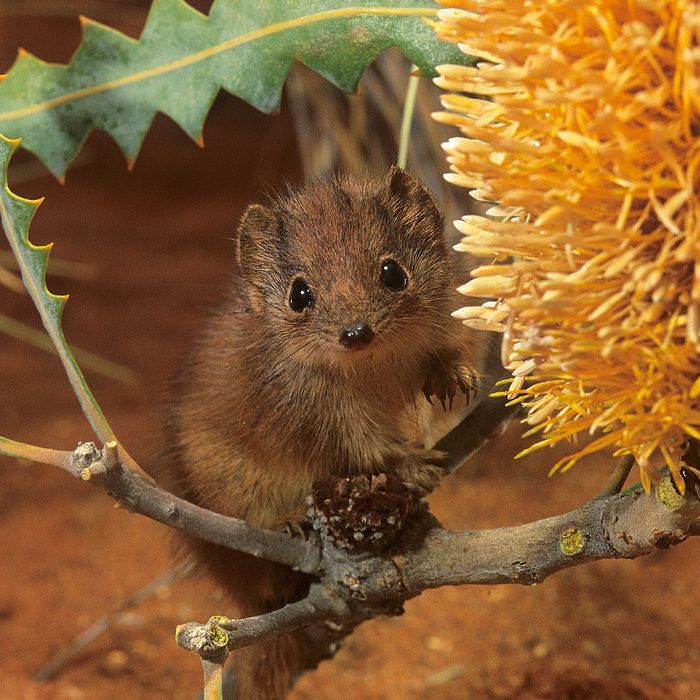 Little red kaluta (probably horny).
Photo: Jiri Lochman / NPL / Minden Pictures
Awww, look at that little guy up there. That tiny, fuzzy sweetie with soft little ears and tickly whiskers and itty-bitty fur hands. That's a little red kaluta, a small, carnivorous marsupial from Northwestern Australia. He's pretty cute, right? Don't you just wanna cuddle him in your hands and feed him snacks and make sure no harm ever comes to his small head? Well, guess what. That teeny cutie is a sex maniac whose entire purpose in life is to hump as many ladies as he possibly can during a two-week period until he freakin' dies, mate. *devil horns emoji*
As the New York Times reported this week, researchers from the University of Western Australia and the University of Queensland monitored the mating habits of kalutas and confirmed that the males are "semelparous," meaning they die shortly after embarking on a marathon of boning.
"Sounds like my ex, haha," you might be saying to yourself. First of all, that's very funny. But second of all, your ex could never. Per the Times:
Kalutas, which reach sexual maturity at just 10 months, have only one two-week window in early September during which resources in their environment are abundant enough to support reproduction. During these brief, frenzied breeding seasons, male kalutas mate with several females — for up to 14 hours at a time — until they succumb to exhaustion and die.
And their deaths, after their sex romps, are truly gruesome. "The precise cause of death is usually ulceration of the gut track," University of Sydney terrestrial-ecology professor Christopher Dickman told the Times. "They'll be leaking blood into their body and begin to suffer organ collapse."
How do the female kalutas feel about all of this? Like their male counterparts, female kalutas are also ethically nonmonogamous, as well as polyandrous, which means they can internally store sperm for up to two weeks before fertilization and produce litters of offspring using the sperm of different partners. Women's rights!
"The fact that females can store sperm is probably one of the ultimate factors that led to the evolution of male die-off," Dickman said, explaining that since they can't guarantee that any one female will fertilize their sperm, they have to have sex with as many females as possible in the hopes that some will bear their children.
Still, 14 hours is, like, a lot, though.