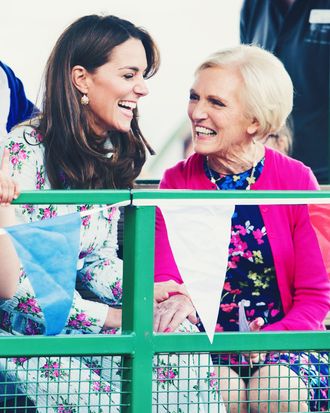 Kate Middleton and Mary Berry.
Photo: Samir Hussein/WireImage/Getty Images
On Tuesday afternoon, delightful photos emerged of two of England's most powerful women sharing a jolly good laugh together: royal person Kate Middleton and the inimitable Mary Berry of Great British Baking Show fame.
Upon seeing the endearing images, I immediately had two simple questions: Why were they together, and do they go way back? It didn't take long to retrieve answers. According to Vanity Fair, Mary joined the duchess on a delightful tractor ride earlier today in Surrey, where Kate was unveiling her new "Back to Nature" garden. Also, while the two aren't close friends, this isn't their first introduction — that came in 2013, when Kate admitted to the TV personality that she's a "big fan" during a visit to a charity they both support.
Once resolving those two questions, I was then able to focus on one much more fascinating: What in bloody hell were these two fancy ladies talking about that caused them to erupt in laughter?
Here are a few potential subjects I considered:
• #BinGate
• The sexy-lady hedge in Sheffield that drunk lads keep trying to bone
• Mary's first music festival at the sprightly age of 84
• Spotted dick, jam roly-poly, or truly any other British dessert with a deranged name
• Photos of Kate's supremely cool baby
• Prince Charles's tampon-related phone sex
• The time the Daily Mail tried to peddle an absurd theory about Kate Middleton's fingers
After much speculation, though, I've come to believe there's only one possible answer: Paul Hollywood's unrivaled Instagram.