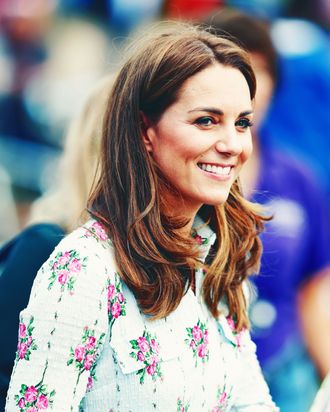 Photo: Max Mumby/Indigo/Getty Images
Are you aware of Prince Louis? Formerly thought of as one of the royal family's "most elusive" members, Kate Middleton's 1-year-old baby has emerged from his shell in the past year doing such things as: wearing a sweater with a little doggy on it; wearing big sunglasses on his baby head like a tiny little man; supposedly wishing Charlotte (the royal child, not York-Goldenblatt) a happy birthday; and, of course, being christened. But — what's this? Oh, what's this? Now it seems Kate Middleton would like to share another of the things the small royal does, or at least has done.
On Tuesday, the duchess unveiled her new "Back to Nature" garden in Surrey; the garden is the third she has designed and is part of her campaign to encourage kids to play outside. The celebration included a tractor ride with Mary Berry of the Great British Baking Show. It also included the spilling of certain beans related to a garden activity young Prince Louis enjoys.
According to People, an attendee named Sarah Griffiths said Kate Middleton spoke to her about one of Prince Louis's most beloved activities. "She was telling us how her son Louis loves —," Griffiths told People.
"Loves … what?!" you're thinking. Well, do you have a guess? This might be a good opportunity for you to engage in some creative thinking. What would a baby love? Put yourself in the shoes of a baby, maybe, and see what you think. Hmm. If I didn't already know the answer, I can tell you that these would be my guesses:
Buttoning the Buttons on His Coat
Now that I think about it, I'm not sure babies love this as much as I love to see babies do it. I haven't spoken to a baby about how they use their tiny fingies to button their coat and whether they enjoy it, but I do believe babies probably enjoy completing small tasks. Plus, babies need to wear coats outside when it's cold. I would think that it could be this. Though, actually, some light research concludes Prince Louis might be too young. The website Planning With Kids says:
Children are able to start dressing themselves from about 2 and a half to 3 years of age. It may be as simple as pulling on a sock or jacket. Giving them practise is useful without it having to become a regimented ordeal for the child.
But he could be advanced.
Showing Where the Ground and Sky Are
"Where is the ground? Where is the sky?" The baby points down, the baby points up. This could be a game you play with a baby, I'm not sure.
Having a Snack
Having a snack in the garden sounds just as nice for a 1-year-old as it does for an adult. And it would be easy to know Prince Louis loved it: He's making mmm noises, having a happy face, etc. Emoting about the snack.
Taking a Nap
Similar to the snack idea, in a way.
"But — okay, I have my own guesses. What does he love?" you're thinking. Well, okay. Did you write down your guesses? I would suggest writing them down and signing the paper to keep yourself honest. Once you've done that, please press play on this video and wait until its completion to scroll further:
"She was telling us how her son Louis loves," Sarah Griffiths told People about Kate Middleton's son Louis — "smelling flowers."
It was "smelling flowers." Did you get it? If so, please click here. If no, please click here. Thank you.