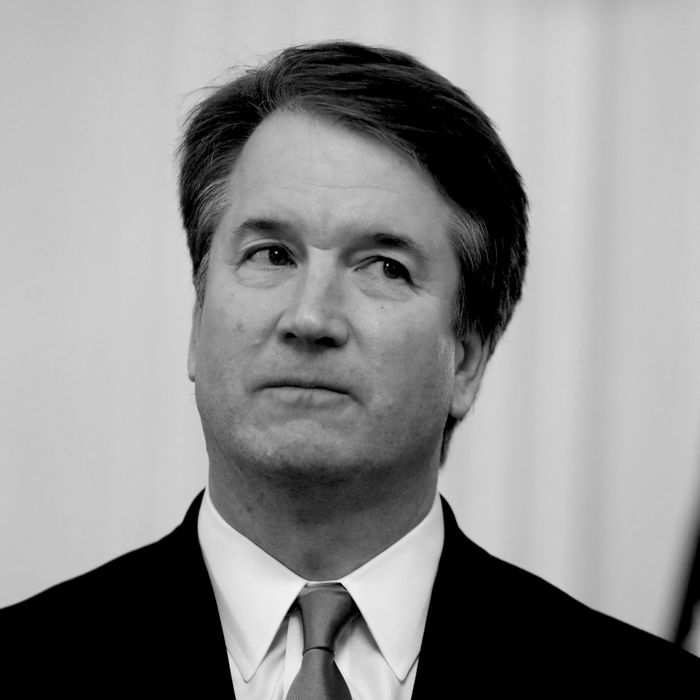 Brett Kavanaugh
Photo: Chip Somodevilla/Getty Images
One year after Brett Kavanaugh's Supreme Court confirmation hearings, the New York Times has uncovered new information regarding Deborah Ramirez's sexual-misconduct allegations against him: The Times found that a former Yale student had approached the FBI and described a similar incident between Kavanaugh and another female classmate, though the woman in question reportedly does not remember it.
After Christine Blasey Ford accused Kavanaugh of sexually assaulting her in high school, Ramirez went public with her own accusations. She alleged that during a Yale dorm party, a drunken Kavanaugh exposed his penis and shoved it into her face, causing her to touch it when she tried to push him away. Kavanaugh denied the claims, and was confirmed to the court after the Senate Judiciary Committee concluded that there was "no corroboration of the allegations."
However, during a ten-month investigation, the Times found that Ramirez's allegations were corroborated by at least seven people, and uncovered an account of a parallel incident: A former Yale classmate named Max Stier says he witnessed Kavanaugh with his pants down at a different dorm party, and that his friends had pushed his penis into a female student's hands. As with Ramirez's incident, it was alleged to have occurred during Kavanaugh's freshman year. There was no information on the identity of the female student; a day later, however, the Times issued a correction saying that she had declined to be interviewed, and that her "friends say that she does not recall the incident."
Stier, who declined to speak with the newspaper, told the FBI and U.S. senators about the incident, but the FBI did not investigate. The Times was able to corroborate the fact that Stier approached the FBI with two officials who spoke to him.
President Donald Trump, who last year called the accusations against Kavanaugh "fabrications," continues to support him in light of the new report, and urged him to sue "for libel."
"Brett Kavanaugh should start suing people for libel, or the Justice Department should come to his rescue," Trump tweeted. "The lies being told about him are unbelievable. False Accusations without recrimination. When does it stop? They are trying to influence his opinions. Can't let that happen!"
The report has prompted both calls for Kavanaugh's impeachment and a new investigation into the claims. Democratic presidential candidate Amy Klobuchar also criticized the FBI's initial process during an interview with ABC's This Week on Sunday. "I think the whole thing was a sham and that those documents need to be turned over as well as the documents that the White House hid from his time in the White House counsel's office," she said.
"I strongly opposed him based on his views on executive power, which will continue to haunt our country, as well as how he behaved, including the allegations that we are hearing more about today," Klobuchar added.
This post has been updated in light of the Times' correction.