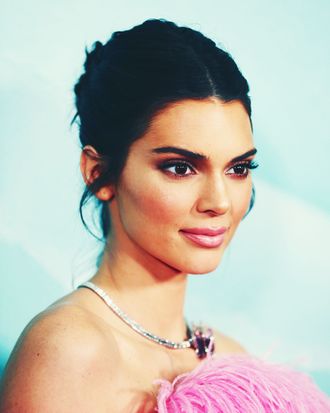 Kendall Jenner with dark-brown hair.
Photo: Brendon Thorne/Getty Images
Kendall Jenner, model, budding beauty entrepreneur, and founder of the Kendall Jenner Teeth Whitening Pen, is a brunette no more. The owner of usually really dark brown hair and a center part closed Burberry's spring 2020 show during London Fashion Week looking kind of different in that she had lighter, sandy-blonde hair and a center part.
Thanks to the highly publicized runway show and a few up-close Instagram stories and selfies on Jenner's personal account, people quickly took notice of the new look and had a few hard-hitting questions about the change. Namely, is it a wig? Or is it her actual hair, just dyed blonde? Also, is she having more fun? But that last one is more of a rhetorical question because she clearly looks like she's having a lot of fun.
Jenner's fellow famous model friend Bella Hadid also went blonde before New York Fashion Week, so maybe this lightening and its timing speak to a bigger trend we'll be experiencing throughout the remainder of Fashion Month in Milan and Paris. In the meantime, I eagerly await a group picture of model friends Kendall, Gigi, Bella, and Hailey all together with their blonde hair looking all blonde and model-y.