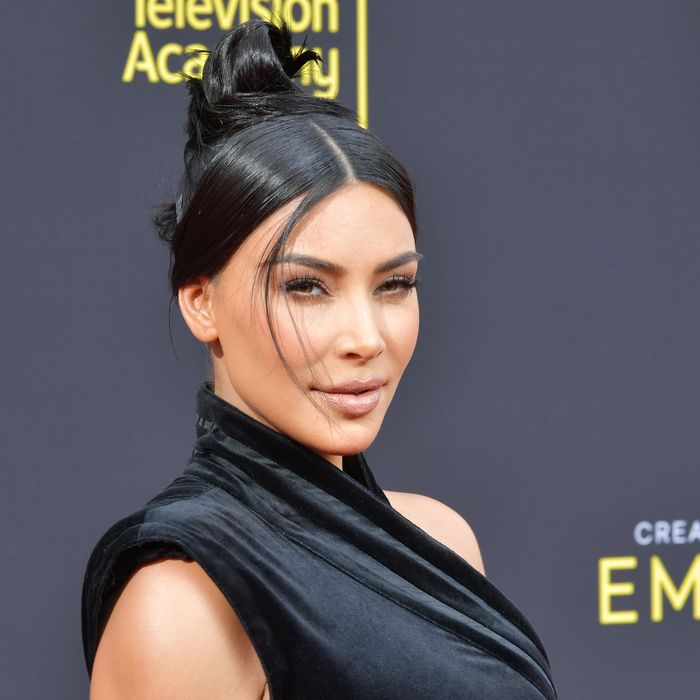 Photo: Amy Sussman/Getty Images
When it comes to birth plans, oftentimes new parents have to throw them 'em all out the window, as various, unexpected, and sometimes life-threatening factors may arise. But today we've learned that Kim Kardashian West wouldn't let anything come between her and something extremely critical, like her ideal nail color, on the day her eldest child was born.
During a recent episode of her best friend Jonathan Cheban's podcast, Foodgod: OMFG, Kardashian West opened up about the events that occurred during the day North West entered the world. First, Cheban drove Kardashian West around town and helped her run errands, like getting a bikini wax and picking up a McGriddle from Mcdonald's. You know, all the important things to do before a baby comes.
Then, while dodging paparazzi, Kardashian West gets a call from her doctor, saying she has to deliver the baby that day due to preeclampsia, which is a condition where a pregnant woman has high blood pressure, swollen hands, and other issues. It can have serious health consequences for both the mother and baby.
Now, I'm no mom, but I feel like hearing that would make me run to the hospital immediately. But Kardashian West had more important issues to think about, like her glam. Particularly, her nails, which were a dark goth shade. Unacceptable!
"My nails were dark," she said. "It was when I was still in my Lincoln Park After Dark phase with my burgundy nails. And I was like, 'No, no, no, I'm having a girl like I really need a nice light-pink nail for delivery.' So I told the doctor, 'Are you sure I have to deliver right now, can you give me like two hours?' And he was like, 'Fine meet me in two hours.'" As a fellow Libra, I understand Kim Kardashian's unwavering want for aesthetic perfection.
And listen, North West came out fine. Fine! Some of us just know that you gotta have those nails on point, AND on theme, no matter what …