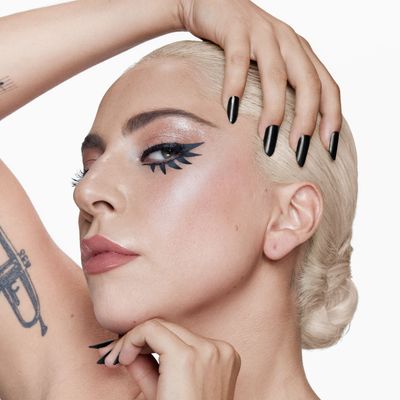 Photo: Courtesy of Haus Laboratories
Prime Day 2019, also known as your one chance to reserve Mother Monster's baby beauty products, seems like decades ago, but today is the day: Lady Gaga's inclusive beauty line, Haus Laboratories, is officially live and up for grabs.
If you're a procrastinator who didn't pre-order your stuff on Prime Day, you'll be happy to know that in addition to the six collections and individual products that were unveiled earlier this summer, the brand is debuting three even newer products today: Liquid Eye-Lie-Ner, an extremely black "Matter Than Matte" liner; Armor Wingtips, reusable stickers in the shape of eye liner flicks that make you look like you're really good at liner; and No.1 Face Masque Armor, another, more intricate face sticker that will make you look like you do calligraphy as a side hustle.
While these eye-focused launches are inspired by Gaga's bold looks (like her signature black liner that she'd mattify with black shadow back in the day) they were all made with ease and convenience in mind. "One of the first tours where I actually worked with Gaga all the time was the Jazz Tony Bennett tour, and she wanted all this quick-change makeup," says Sarah Tanno, Gaga's longtime makeup artist and global artistry director of Haus Laboratories. "She wanted me to do an eyeliner change in 30 seconds, with a wig being put on, while trying to change mics, while I'm standing over to the side thinking I'm just going to poke this girl in the eye."
That's when Tanno called up Phyllis Cohen from Face Lace (which recently starred in Euphoria) to come up with face stickers that quickly created things like skinny brows, a removable Super Bowl half-time show look, and now Armor Masques, Gaga's gift to you. "It was really important to Gaga to bring these tricks and things she's fallen in love with to consumers in a different way," Tanno explains. But both she and Gaga just want you to do you whether you're on a stage or not. "What we don't want is a bunch of people trying to go look like Lady Gaga. That's not the point of this brand. We want you to use these tools that we've created for you to express yourself in whatever way that is, whether that's wearing very little making or building a persona for the day. Beauty has really helped Gaga in that way."
So draw all over your eyes or don't. But if you do, allow Gaga to make it way easier and more enjoyable with free two-day shipping and stickers you can quickly slap on.
If you buy something through our links, New York may earn an affiliate commission.