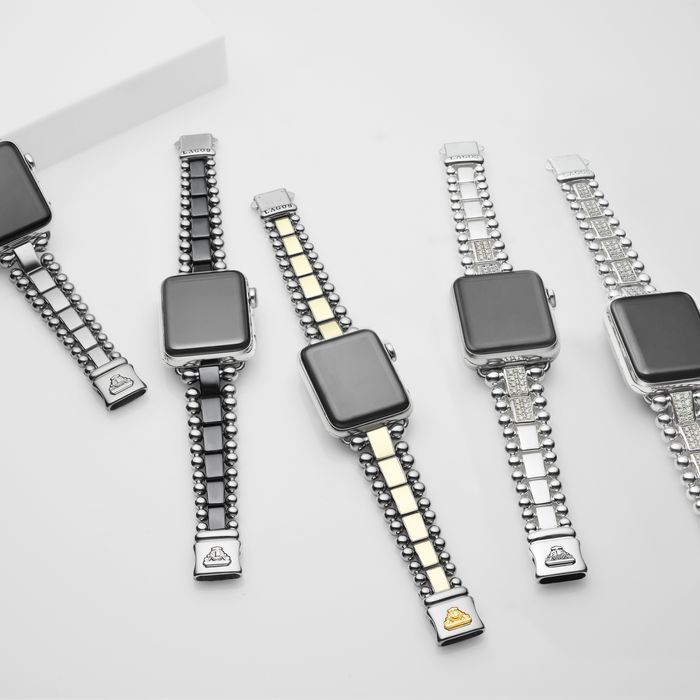 Have you ever looked down at your Apple Watch and thought, I wish this looked more like a nice bracelet and less like what tech bros wear? LAGOS has launched a new collection of Apple Watch bracelet straps that look far more high fashion than the standard-issue strap. The style, easily identifiable by the small balls running down the bracelet, is called Smart Caviar.
"With Smart Caviar, women can benefit from the functionality of the Apple Watch without sacrificing their personal style," LAGOS's founder and creative director Steven Lagos said in a press release. The company says it's the first fine-jewelry bracelet for the Apple Watch. However, it's not so dainty that it clashes with the utilitarian look of the actual watch. The Smart Caviar line, starting at $595, is out now on LAGOS' website as well as at Bloomingdale's, Nordstrom, and Neiman Marcus. It comes in five different styles, as pictured above. They're available in stainless steel, stainless steel and 18K gold, and stainless steel with black ceramic. Those new styles join the sterling silver with diamond bands introduced last year.
If you buy something through our links, New York may earn an affiliate commission.