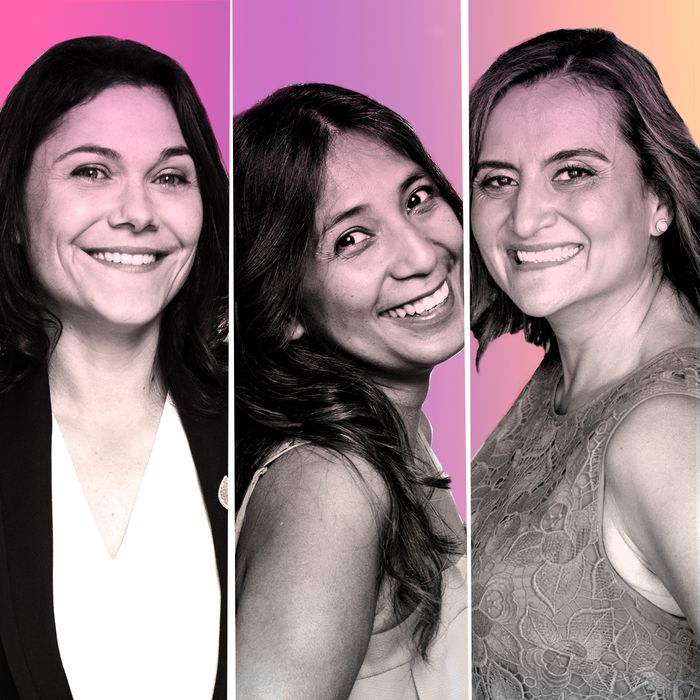 From left to right: Nadège Le Garlantezec, Shyamala Maisondieu, Adriana Medina
Photo: Courtesy of Lancôme
What does it take to make a fragrance? Quite a lot, as it turns out. All the complexities you smell when you spritz on your favorite scent don't just magically appear: It takes perfumers years of chemistry classes and patience to carefully and (correctly!) blend each element into a product that's not only pleasant, but also successful. Perfumers, also known in the fragrance world as "noses," are part artist and part chemist. Besides having a natural knack for smell (hence the "nose" nickname), they usually train rigorously at perfume school.
To learn more about what goes into a great fragrance, we turned to the experts at Lancôme, which just debuted the new scent Idôle. Three female perfumers from three different countries — Nadège Le Garlantezec from France, Adriana Medina from Colombia, and Shyamala Maisondieu from Malaysia — worked together to create a scent they felt captured "contemporary femininity" in a bottle. (Their collaboration is surprisingly rare in a world where men have historically held more top-fragrance jobs.) The team effort produced a fragrance that doesn't smell overwhelmingly floral or musky, but "clean," with notes of bergamot, rose, jasmine, patchouli, and cedar. Idôle comes in what Lancôme says is the "world's thinnest" perfume bottle, and the thoughtful process also stretched to its environmental impact: Once you finish a bottle, you can get it refilled at a Lancôme retailer or online.
Below, Idôle's creators share how they got into the fragrance world, and their distinct approaches to building a fragrance from scratch.
Nadège Le Garlantezec
I entered the world of fragrance when I was 4 or 5 years old. I received a small bottle of perfume at my grandmother's house, and the shape and the smell are still in my mind. When I discovered a conservatory of archived perfumes, I realized the power of fragrances. From that day on, I decided that I wanted to embrace this job!
As a child, I was always outdoors, and during the cold season my mother used to burn leaves and wood in the garden. When she came back, she had the smell of smoky wood melted with the smell of dried leaves, and I guess this sensory moment is recorded in my memories and influences the way I create fragrances today. This probably explains my closeness with the chypre family (a type of mossy, earthy scents) and the woodsy notes found in Idôle. I create fragrance with feelings and emotions, and I love sharing that with other people.
Adriana Medina
After graduating from college with a biology degree, I wanted a job in a lab. I found a great opportunity at a major fragrance brand as a lab technician, then later became an analytical chemist and got the chance to become a perfumer after six years. I've spent 19 years as a perfumer now, meaning a total of 25 years in this beautiful field of fragrance.
To create a great fragrance, you need an open mind for good and bad criticism, open ears to listen attentively, and lastly, very thick skin and an open heart…to get knocked down many times and feel ready to get up again! From my Colombian heritage, I feel I have lots of passion, resilience, and creativity. I am lucky to enjoy so much of what I do, and most of all, I love having the chance to inspire others to follow my footsteps.
Shyamala Maisondieu
Growing up in Malaysia, I was surrounded by scents — spices, flowers, exotic fruits — but never knew about the existence of a "fragrance industry." But after graduating with a chemical engineering degree in England, I happened to come across an advertisement from a fragrance company looking for people with a chemistry background. After a series of "olfactive tests" (designed to test my sense of smell), I met an American perfumer for an interview, and after he told me about his job, I knew that it was exactly what I wanted to do. Now, 26 years later, I'm cherishing what I do every day.
I love nature, so I take a lot of inspiration from that. Also, coming from a mixed culture with an Indian father and a Malay mother, and having lived around the world in Malaysia, England, Hong Kong, and France, I've had to adapt to different cultures. I apply those skills into my perfumes. When it comes to the creation process, it's the emotion behind a piece of art that comes out and speaks to someone. No matter how simple or complex a painting can be, if it was done with a certain emotion, the viewer will be able to sense it. This applies 100 percent for fragrance, which is all about emotion. A great fragrance is a fragrance where there's been a lot of love, sweat, and tears, but most importantly harmony between people who worked as a team.
This interview has been edited and condensed. All images courtesy of Lancôme.
This is paid content produced for an advertiser by New York Stories. The editorial staff of The Cut did not play a role in its creation.