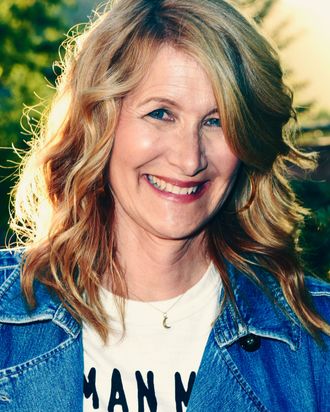 Photo: Vivien Killilea/Getty Images
Laura Dern has formulated an erotics of her local car wash and you love to see it.
On Wednesday, the Big Little Lies actress posted some quality content to her Instagram Stories — a video of herself monologuing about how excited she is to be in proximity to a car wash. Behind her one can see an actual motor vehicle going through a car wash. The fact that she is not herself inside of a car suggests her libidinal energies are not wedded to having her car be clean but to being in the presence of the car wash qua car wash. Indeed, Dern, who has made a success of herself in Hollywood for decades, has little need for the car-wash rituals that hamper drivers ceaselessly, but she returns to them nonetheless, as with a beautiful memory. Her full car-wash epiphany goes as follows:
"Man oh man do I love a car wash! I get so excited and let's see — can we see it together? — I mean just nothing makes me happier. I think this is the carwash that I came to with my grandma when I was little, and honestly my favorite thing was watching the car get washed. [gasps] Guys! It's fantastic. They're so beautiful."
As we can see, Dern's attachment to the car wash is steeped in nostalgia for a bygone childhood, the womblike tenderness of unbridled maternal care which has since been complicated by adult life (one might say that the journey through a car wash itself reenacts the trauma of being born). What remains is a magnificent grown-ass woman who is absolutely horny for going to the car wash.