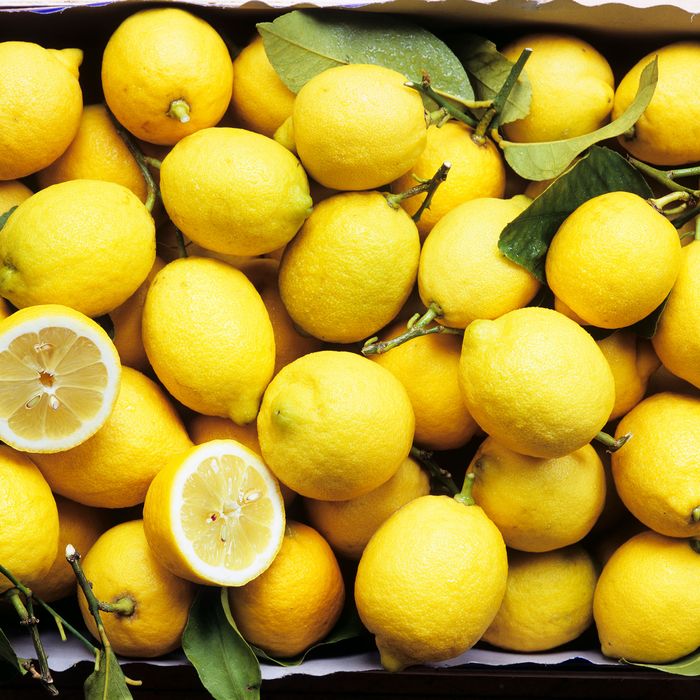 Photo: Michael Paul/Getty Images/StockFood
Two months ago, Newby Hands, the global beauty director of Net-a-Porter, changed my life. She and I, and former beauty editor Kathy Phillips, were discussing deodorant. What follows is an exchange, not from fantasy, but, if you can believe it, from life itself.
Me: "What deodorant do you use?"
Newby: "I rarely use one. I have many problems, but body odor is not one of them."
Kathy: "Are you using lemon, Newby? I have for years. No deo for me either."
But by this point, I was no longer conscious. Lemons? Really?
I stopped wearing standard antiperspirant more than a decade ago. Like a college freshman trying on vegetarianism, I have experimented with body odor–repellants of every kind, from the rock crystal to the Jasons and Schmidts. I've even taken chlorophyll tablets, which is known to quell odors of all kinds — foot, underarm, even halitosis. And now, another edible-cum-deoderant intrigued me.
In a trance, I went to my refrigerator, opened the produce drawer and pulled out a lemon, already sliced into two halves, stored in a ziplock, probably having been squeezed onto some noodle dish or something. I rubbed one half  along my underarm as if it were the roller head of Dry Idea.
After wiping away a few lingering bits of pulp, I took a whiff, smiled at the pleasing familiar smell, and got dressed.
If you're a Manhattanite, you know this summer has had more than its share of soupy, muggy, sweaty scorching days, but it's been about five or six weeks since I started using lemons, and my armpits remain blissfully unaware of the disgusting conditions surrounding them.
Now, you might be wondering, What about stress sweat? Passed! A few weeks ago, I hosted a chat with Maggie Gyllenhaal. I don't usually fare well with celebrity interviews (I once interviewed Madonna and pretty much made a fool of myself, fumbling with my questions and even saying "You rock" after one of her innocuous answers. And this was over the phone.), and while my mouth may have experienced a mild misstep or two, my armpits sat quietly by and behaved.
Given the fruit's high level of acidity, I asked dermatologist Amy Wechsler whether she'd endorse this action.
"Lemon is way too acidic to rub on the skin!" she wrote in an email. "It can cause major irritation, and underarm skin is particularly sensitive — so it's a no from me!"
I lifted my shirt and looked in the bathroom mirror. No signs of irritation but a skin tag or two. I decided to ask a breast cancer specialist.
"I am unaware of any effect of lemon juice deodorant on axillary lymph nodes or breast health," says Kimberly Feigin, radiologist at Memorial Sloan Kettering Evelyn H. Lauder Breast Center. "Theoretically, if the skin became irritated, that could cause the lymph nodes to react or enlarge, but any direct effect on the nodes themselves seems unlikely."
That's enough of an endorsement for me.
On Fresh Direct, lemons cost 89 cents, or five for a dollar. Since I plan on altering my routine from halving to slicing, I figure each lemon should last me about a week, maybe ten days. Doing the math, my new citrus plan will still cost more than even an expensive luxury deodorant, but I don't care. The Earth mother in me has waved her freak flag proudly and confidently.