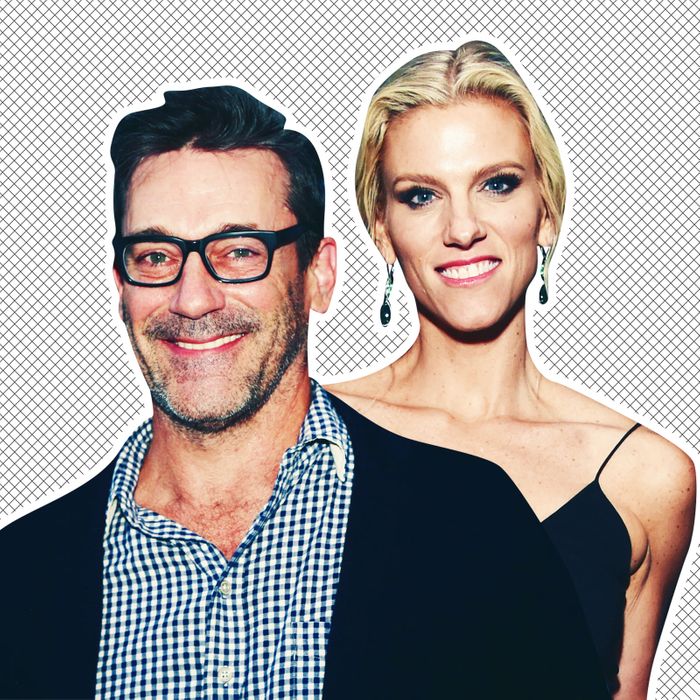 Jon Hamm and Lindsay Shookus – friends or kissers?
Photo: Getty Images
On Sunday night, Mad Men star Jon Hamm and Saturday Night Live producer Lindsay Shookus attended the opening performance of illusionist Derren Brown's Broadway show, Derren Brown: Secret. According to People, one source said the pair "looked like they were having a great time," and "it very much felt like they were on a date." But was their outing definitive proof that they are kissing? Or was it, like Derren's show, a feat of "psychological illusionism"?
"The two sat next to each other and Jon was right next to the aisle. They weren't hiding anything!" another source told Us Weekly.
The source went on: "Lindsay and Jon didn't show much PDA, but there was definitely some flirtatious banter. Lindsay turned her head to talk to Jon before the show, during intermission and after the show. She was always smiling and looked like she was enjoying her conversations with Jon."
Hm. This could describe two people in the throes of new love, sure. Or it could also describe two adult, human friends interacting with each other.
But wait, there's more. When Hamm went to get refreshments at intermission (a bottle of water for her, a fountain drink for himself), the source says Shookus seemed distracted by her phone "but she still made sure to give Jon attention." Again, maybe proof of kissing, maybe just a person being polite.
A source close to Shookus — who split from her ex, Ben Affleck earlier this year — told Us Weekly that Shookus and Hamm are "just friends and they have been for over a decade."
This is not the first time rumors about Shookus and Hamm dating have floated around. The two reportedly were spotted together at a Kanye West concert at Madison Square Garden in September 2016, "looking cozy." When "Page Six" reached out to Hamm's reps about the report a few months later they said that he and Shookus "have not dated. They are not friends; they are acquaintances."
I guess we'll just have to wait and see if the pair end up getting iced coffee together.