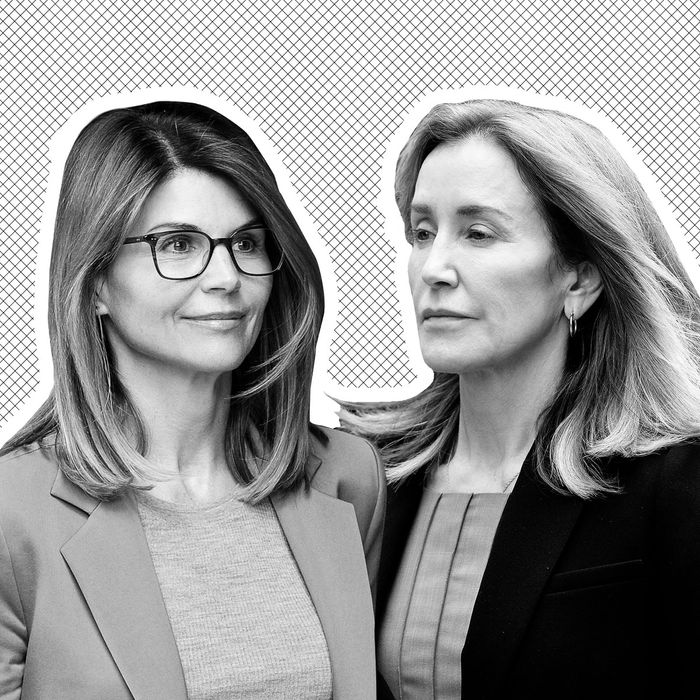 Lori Loughlin and Felicity Huffman.
Photo: Getty Images
On Friday, former Desperate Housewives star Felicity Huffman was sentenced to 14 days in prison for her role in the nationwide college-admissions scandal. The day was described as "rough" — not for Huffman, but for former Full House star Lori Loughlin, who was reportedly "paying close attention to the proceedings," a source told People.
Both Huffman and Loughlin were implicated in the FBI's Operation Varsity Blues, which uncovered the nationwide scandal earlier this year in which dozens of wealthy parents were alleged to have paid William "Rick" Singer thousands of dollars to facilitate their children's entry into prestigious colleges. In May, Huffman pleaded guilty to paying Singer $15,000 to falsify her daughter's SAT scores. Loughlin and her husband, Mossimo Gianulli, are accused of paying Singer $500,000 to get their two daughters into the University of Southern California as crew recruits — neither rows crew — but unlike Huffman, in April, Loughlin rejected a plea deal and pleaded not guilty to the charges against her. This is a decision she is reportedly starting to regret.
"If she's found guilty, she will go to jail; that is clear. And if another deal is offered to her, which I don't think it will be, she will go to jail. Her only chance of avoiding jail is to beat these charges," the source told People. "She didn't understand the entire nature of the charges against her, and she wasn't even sure if or how she had broken the law. It was very early, and she didn't have all the information that she has now."
The source added that Loughlin hopes the "prosecution will move fairly and not make an example out of her."
"This has been a rough day. Lori is going to move forward as best as she can, but now she has a little more clarity about what will happen next."
Loughlin's daughter, Olivia Jade, has yet to Instagram her feelings about the matter.