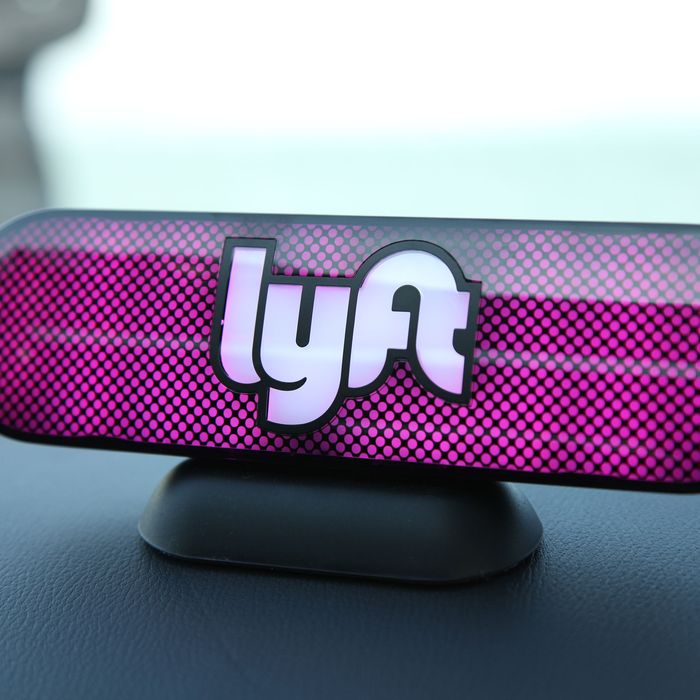 Lyft car.
Photo: Kelly Sullivan/Getty Images
Women across the country are suing Lyft for allegedly mishandling and concealing their sexual-assault and rape complaints against drivers, CNN reports.
In a lawsuit filed in San Francisco Superior Court on Wednesday, 14 women accuse the ride-hail company of failing victims of sexual assault every step of the way: They claim that Lyft not only "stonewalls" authorities from investigating sexual-misconduct claims made against drivers, but that the company also does not notify victims about the status of their claims. This, the women claim, is deliberate: They say Lyft is choosing to "hide and conceal" the platform's major "sexual predator crisis."
The alleged assaults, which occur between January 2018 and June 2019, are nothing short of disturbing. In one particular instance, one woman claims that after a Lyft driver raped her during her ride, he used her phone to add a $25 tip at the end. And the way that Lyft allegedly responds to such incidents compounds the horror. In one instance, a blind woman who says a Lyft driver forced himself into her house and raped her had to repeatedly contact Lyft to get a status update after making a complaint; according to the suit, a week after the alleged rape, she was informed that the investigation into her case had been closed because police "had no evidence that the incident was not consensual." In another alleged incident, the suit claims that a driver continued to work for the company after driving a women to a beach, where he raped her.
In a statement to ABC News on Wednesday, Mary Winfield, Lyft's head of Trust and Safety, called the allegations "terrifying" and spoke of her company's "effort to ensure our riders and drivers have the safest possible experience." However, it was only this past April that the company announced it would be enforcing continuous criminal background checks on all drivers — plus, the suit alleges that the nature of these checks are inadequate. Lyft has also touted a sexual-harassment training for drivers, though the New York Daily News notes that it is not mandatory.
To help improve safety, the suit suggests measures such as adding a feature to the app that would notify passengers when the driver had deviated from the appropriate route.
"Lyft could make simple changes to their app to protect passengers and eliminate future assaults but they have chosen not to," Mike Bomberger, a lawyer behind the lawsuit, told CNN in a statement.