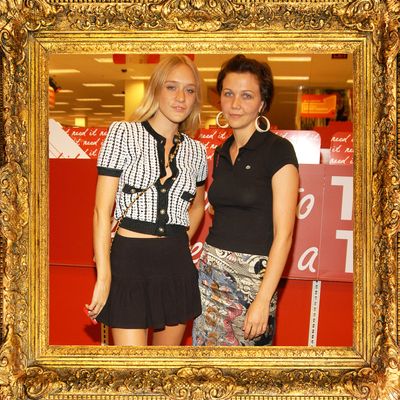 Photo: Glasshouse Images/Universal Images Group via Getty
Last month, Flatbushed.com unearthed a stunning digital time capsule. Immediately described as "historic," a "cultural reference point," and "the 2004 zeitgeist in one image," the relic is a photo taken at the star-studded grand opening of the Atlantic Center Target. That evening, actors Chloë Sevigny (in a Chanel ensemble) and Maggie Gyllenhaal (in a Lacoste polo), joined other iconic New Yorkers to celebrate Brooklyn's first "metropolitan store," posing in front of shopping carts and value-pack Hanes.
But what, you have to wonder, does Gyllenhaal think of the image? "What am I wearing on my feet?" She asks when I show it to her on my phone. She zooms in on her black ballet flats.
Gyllenhaal is hosting a bonkers "sensory deprivation" dinner held by The Prisoner Wine company for the launch of its latest wine, "Eternally Silenced," whose bottle is almost entirely dipped in wax. You can think of the dinner as being something like the Keanu Reaves restaurant scene in Always Be My Maybe: guests were made to wear blindfolds for the entire first hour of the meal, which included a "foraging" course of flowers and tomatoes eaten off of a tablecloth.
Attendees kept noting how much more social they felt with the zany deprivation props, but being plied with wine before food probably helped too. And when we're finally given permission to remove the blindfolds, I find a somber Peter Sarsgaard to my left, Gyllenhaal next to him (neither had been blindfolded).
The burning question of the 2004 Atlantic Center Target opening came up in a brief exchange with Gyllenhaal, one that touched on her role in the The Deuce, her directorial debut (an adaptation of Elena Ferrante's The Lost Daughter), and sex scenes in a post-#MeToo Hollywood (she believes HBO's push for intimacy coordinators will set an industry-wide precedent).
While she recalled the Target grand-opening, Gyllenhaal seemed to have forgotten about the photo, and was shocked to hear it had become a cultural touchstone 15 years after the fact. I told her people had written entire articles about it. "Why, why, why, why?" she asked, mystified, and I said something about nostalgia.
As for Sarsgaard, still picking at a tiny square of garnished tofu (he says he grew up on a farm killing animals) I really had only one question: Did he know that the movie Orphan (the 2009 horror in which he played the adoptive father of a child who turns out to be a 33-year-old murderess) actually happened in real life?
"What?" he said. "It actually happened in Indiana," I explained, recounting recent reports that an "unsuspecting Christian couple" had adopted "an adorable little girl only to discover she is an adult masquerading as a sociopath." The girl had tried to kill the parents. Sarsgaard looked disturbed, and noted to guests that the murder weapon in Orphan was CGI, so that the child-actress who played the titular character felt more comfortable.
By the time the noise-cancelling headphone portion of the deprivation came, Sarsgaard, who doesn't drink and was surrounded by 30 blitzed new friends, looked grateful. And while I probably wouldn't recommend a sensory-deprivation dinner to my worst enemy, I don't regret this one; my senses may have been deprived, but in the end I learned quite a lot.